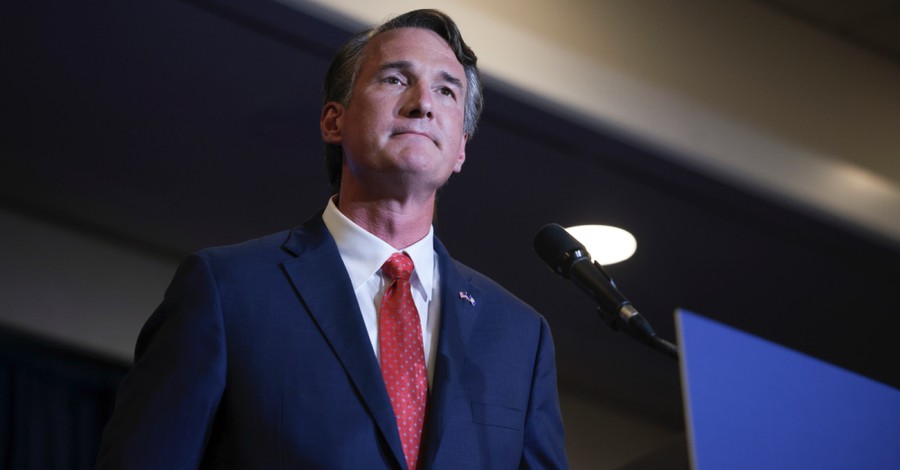 After almost a year as Virginia's governor, Glenn Youngkin recalled how God led him to quit his dream job to become the leader of the Commonwealth.
Youngkin, who took office in January 2022, revealed that his run for the gubernatorial role began when God told him to leave his dream job of 25 years at The Carlyle Group, a private equity firm.
"One day in my prayer life, I actually heard something very different, and it was, 'I need you to leave Carlyle,'" the governor told CBN News in an interview. "That's one of those moments where you say, 'Wait, I think I have a wrong number!' You know, bad connection because this was my dream job, and so after a period of time of reflecting and praying in July, I went to Suzanne and said, 'I'm going to quit my job at Carlyle.'
"And she looked at me and said, 'Have you lost your mind?' And she said, 'What are you going to do?' And I said, 'Well, I think I'm going to go run for governor,'" he added.
Youngkin's wife, Suzanne, recalled being "taken aback" after her husband broke the news to her.
"When he came to me, he not only said, 'I'm going to retire,' but he said, 'I'm going to retire this weekend.' I was pretty taken aback," she told CBN News.
"I just asked him to be prayerful. I just said, 'please talk to people, please learn as much as you can about what this is that you think you're called into.' And he did just that."
In January 2021, Youngkin announced that he was running for Virginia governor. He later won the GOP primary and, ultimately, the gubernatorial election, defeating Democratic opponent Terry McAuliffe by nearly two points. Youngkin is the first Republican to be elected as Virginia's governor in 12 years.
"There wasn't a day in the campaign that I wasn't surprised about a lot," he said. "We didn't know much going into this, and we went into it with just a basic commitment that we were going to run a campaign that would reflect us and to do it in a way that was consistent with our beliefs and would make those people that had invested their treasure and time with us proud."
As governor, Youngkin continues to lean on his faith by seeking God daily.
"My day really does start with Psalm 121, 'I lift my eyes up to the hills.' and I ask where my help comes from, and I know my help comes from the Lord, maker of heaven and earth," he said.
"There are tough decisions, and there's a big difference between trying to find the right path forward and trying to make everybody happy, and I think if you're doing the latter, then we're not doing the job, and the job requires tough decisions and tough decisions require discernment," he added.
In response to his prayers, Youngkin says that the Lord continues to show him grace.
"I have to say what, He has been showing me is grace because I'm reminded every day that there was only one perfect person in the history of this planet, and it certainly was not me, and He shows me grace every day."
Youngkin believes one reason he was given a platform was to give parents the ability to decide what schools should be teaching their children.
"One of the big challenges that we saw was the fact that parents were being pushed out of their children's lives and oftentimes at the moments where children need them the most," he said.
"We have absolutely stepped into an effort to empower parents and to make sure that their fundamental right to make decisions for their children is not just protected but is enforced," he continued.
He also offered encouragement to other Christians considering running for office but hesitant to do so.
"Don't worry too much because all things are possible with Him, and He calls us to be obedient," Youngkin stressed. "He doesn't tell us how it's going to turn out, He just calls us to be obedient, and I felt from the moment that I told Suzanne, 'I'm quitting my job tomorrow,' this huge weight came off of me, and I felt encouraged in this in every day, every moment."
While Youngkin's name has been thrown in as a possible 2024 presidential candidate, he says his top priority is leading Virginia as its governor.
"The reality is that I have been very focused on the job that I'm doing, and the midterm elections were just a few weeks ago, and I think coming out of the midterm elections I think our biggest challenge right now is to go deliver, and I think anyone newly elected or those of us elected just one year ago have to stay focused on delivering," he said.
Photo courtesy: ©Getty Images/Anna Moneymaker/Staff
---
Milton Quintanilla is a freelance writer and content creator. He is a contributing writer for Christian Headlines and the host of the For Your Soul Podcast, a podcast devoted to sound doctrine and biblical truth. He holds a Masters of Divinity from Alliance Theological Seminary.
---
---