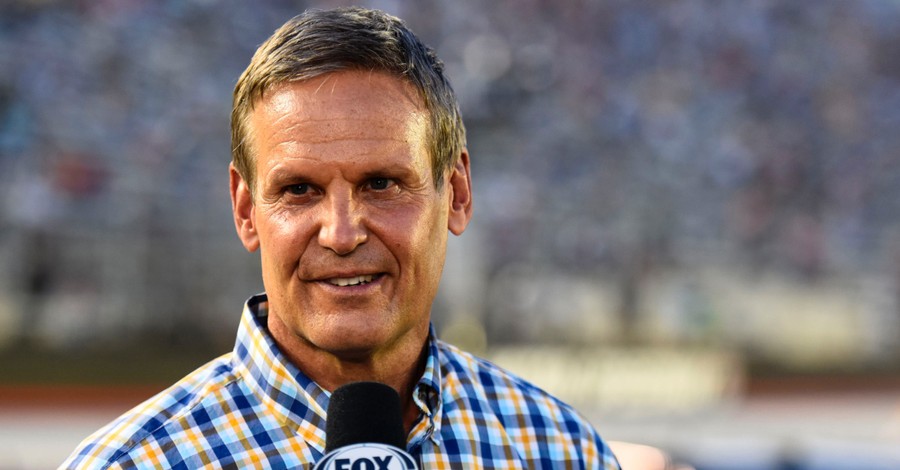 ---
In a recent interview with CBN News, Tennessee Governor Bill Lee explained how God has used the personal tragedies in his life to equip him to face the many challenges he is presented with as a governor.
Whether it's tornadoes, floods or the COVID-19 pandemic, Lee, who is currently in his first term as governor, is reminded of what the Word of God has to say regarding suffering.
"It's been very hard for a lot of people in this country; fear, loss of jobs, loss of life. For me, loss harkens to the scripture that says that suffering produces perseverance, which produces character, which produces hope, which doesn't disappoint. I have a lot of hope for where we're headed. Hope is what pulls us forward."
Years before Lee ran for office, he suffered some back-to-back tragedies in his life, such as the loss of his first wife in 2000.
"In an accident – a horseback riding accident that my wife had was cataclysmic," he said. "Changed everything for the rest of my life. After my first wife passed away, I began this remarkable journey, how God uses that most tragic moment to be the most transformational."
A year later, Lee experienced another family tragedy, this time, it was his daughter, Jessica.
"Another helicopter, another trauma unit, another period of shock and grief," he recalled. "I got a phone call at work. My mom told me my daughter had hurt herself, and I didn't know what that meant, and I pressed; she had actually shot herself, but was alive. And it began another incredibly horrific day that led to a remarkable season, frankly. A relationship ultimately with my daughter that I never could have imagined, even until today."
Lee told CBN News how he found healing and peace following both tragedies.
"I've really come to believe that to the degree that we are emptied, we can experience fullness. In the midst of the darkest hour – [it's] very hard to see God," he said. "Sometimes we need others to see Him.
He recalled that the first lines in C.S. Lewis' book, A Grief Observed, left a lasting impact on him.
"First lines, 'I never knew grief felt so much like fear. I'm not afraid, but it's as if I were afraid', Lee said, quoting the book. "And as soon as I read that, I thought, 'oh my goodness, he knows what I feel like.' Knowing that there's someone who knows and they're beyond it – and the hope of knowing that God will surely prevail on your behalf – is a powerful thing," he added.
Now, as governor, Lee recognizes how God used those difficult seasons in his life to prepare him for the challenges he is facing in his role today.
"When you find yourself in a position like this, then you're forced to ask yourself: 'How can I use where I am right now in the most powerful way to impact people for good?' And to honor God in the midst of it. He has placed me in this spot, and I don't want to waste a minute of it."
Lee added that God's Word "brings life to every situation," noting that he recognizes he cannot do his job on his own.
In closing, Lee stressed that we must be about the things that matter most in life. In Lee's case, it means placing his complete trust in Jesus Christ.
"There is no other rescuer than the rescuing arm of Jesus Christ," he contended. "And when you are in the deepest, darkest place in your life, the moment where you think there isn't going to be a rescue – and He rescues. Forever, you know that you have a rescuing arm."
Photo courtesy: ©Getty Images/Jared C. Tilton/Stringer
---
Milton Quintanilla is a freelance writer. He is also the co-hosts of the For Your Soul podcast, which seeks to equip the church with biblical truth and sound doctrine. Visit his blog Blessed Are The Forgiven.