Milton Quintanilla
| Contributor for ChristianHeadlines.com
| Wednesday, September 28, 2022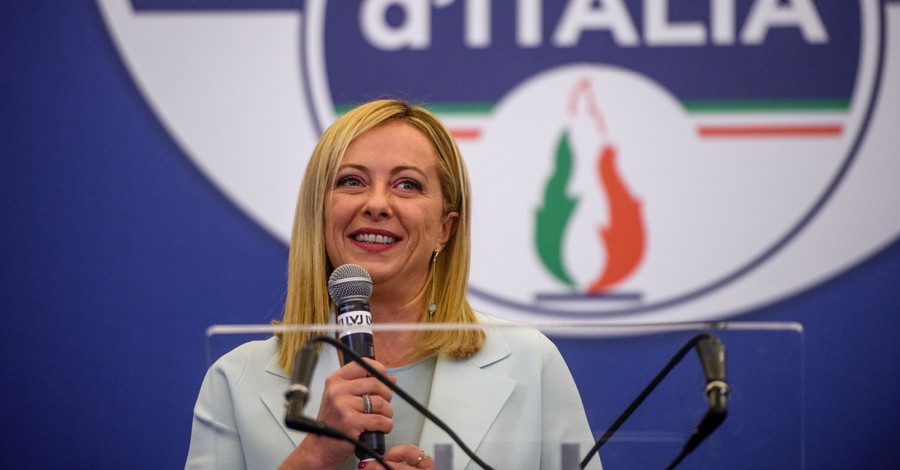 Giorgia Meloni, who vowed to protect "God, family, and country," has been elected Italy's first female prime minister.
Meloni, the leader of the Brothers of Italy party, is expected to lead the country as its next prime minister after her party won 26 percent of the vote in Italy's general election on Sunday.
According to polling data from Politico, as of Wednesday, the party had captured 119 of the 400 seats in the Chamber of Deputies, Italy's equivalent to the U.S. House of Representatives. It had also secured 65 out of the 200 seats in the Italian Senate.
"The Italians have entrusted us with an important responsibility," Meloni said in a statement following her victory.
"Now it will be our task not to disappoint them and do our utmost to restore pride and dignity to our nation," she added.
The center-right Brothers of Italy coalition has historical roots dating to the post-World War II post-fascist Italian Social Movement and will form the next government. The party will hold 237 seats in the Italian Chamber of Deputies and 115 Senate seats.
Meloni's victory sparked praise and controversy due to her conservative values and desire to uphold God, family, and country. According to The Christian Post, American news outlets such as the New York Times have called her a "fascist." Further, CBS News likened her to Italian fascist dictator Benito Mussolini.
Alberto Mingardi, a professor of history and political thought at IULM University in Milan, and Nicola Rossi, a professor of political economy at Tor Vergata University in Rome, both defended Meloni in an op-ed for the Wall Street Journal. The professors asserted there is "no risk of authoritarianism" in Italy's future under her leadership.
"The victory has made Ms. Meloni, 45, the object of widespread international perplexity and even abuse. She has been portrayed as the heir of Benito Mussolini and the harbinger of a new fascism," they wrote.
"Yet whatever Italian democracy's many faults, it isn't toppling, and there is no risk of authoritarianism. Ms. Meloni, a career politician, has been vocal in defending Parliament's prerogatives against encroachments by the executive branch."
A clip of Meloni's 2019 speech at the World Congress of Families went viral on social media following the election. During the speech, she asked, "Why is the family an enemy? Why is the family so frightening?"
"There is a single answer to all these questions. Because it defines us. Because it is our identity," she continued. "Because everything that defines us is now an enemy for those who would like us to no longer have an identity and to simply be perfect consumer slaves."
Meloni also expressed concern over attacks on "national identity," "religious identity," "gender identity," and "family identity."
"I can't define myself as Italian, Christian, woman, mother" but instead must be defined as "citizen x, gender x, parent 1, parent 2," she continued.
"I must be a number. Because when I am only a number, when I no longer have an identity or roots, then I will be the perfect slave at the mercy of financial speculators," she added.
Meloni vowed to "defend the value of the human being," as she emphasized that "each of us has a unique genetic code that is unrepeatable."
"That is sacred. We will defend it. We will defend God, family and country, those things that disgust people so much," she said.
In another speech, Meloni declared, "Yes to the natural family, no to the LGBT lobby, yes to sexual identity, no to gender ideology, yes to the culture of life, no to the abyss of death, no to the violence of Islam, yes to safer borders, no to mass immigration, yes to work for our people."
Photo courtesy: ©Getty Images/Antonio Masiello/Stringer
---
Milton Quintanilla is a freelance writer and content creator. He is a contributing writer for Christian Headlines and the host of the For Your Soul Podcast, a podcast devoted to sound doctrine and biblical truth. He holds a Masters of Divinity from Alliance Theological Seminary.
---
---