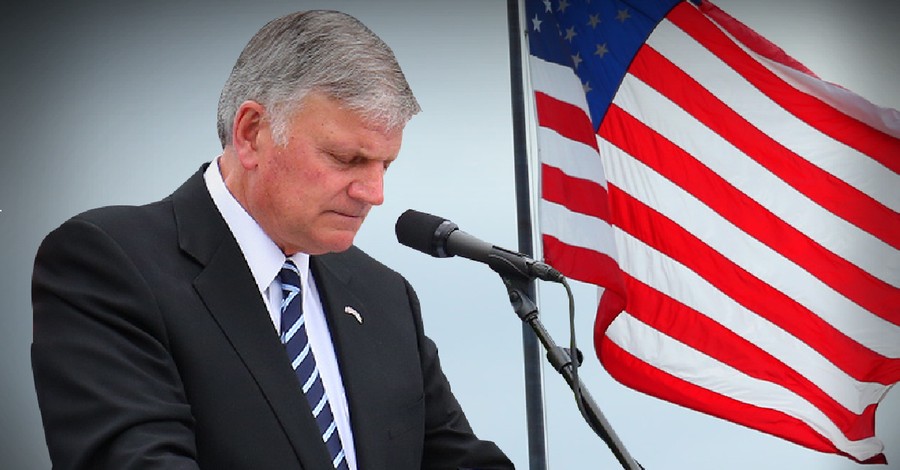 Evangelist Franklin Graham condemned a brutal attack on a man that took place on Sunday night in downtown Portland, as violent riots in the city have become a nightly occurrence.
The now-viral video, which has over 4 million views on Twitter, shows a man, later identified as Adam Haner, who had crashed his white pickup truck after attempting to flee from Antifa and Black Lives Matters protesters.
He was then dragged from his vehicle and beaten by the protestors, Yahoo News reports. As Haner was about to make a phone call to his girlfriend, a man wearing a "security" vest delivered a brutal kick to the back of his head. Haner was knocked unconscious as his head hit the ground, bleeding profusely.
On Wednesday, a 30-minute video was released that showed what had happened leading up to the attack. The protestors had previously been taunting and attacking a transgender woman outside of a 7-Eleven. Moments later, Haner is shown trying to leave the scene as he tries to roll his vehicle out from the crowd, prompting them to approach and later attack him.
The protestors had also attacked his girlfriend Tammie Martin, who is the blonde-haired woman shown crying after seeing Haner's unconscious body on the ground. He was later taken to a hospital but was released with non-life-threatening injuries.
"Next thing I knew I found him on the ground unconscious, and when I got there, he was on the ground, I didn't know if he was breathing and I didn't know what happened," Martin said, according to Fox 12 Oregon.
A GoFundMe page was later set up by Haner's brother Brian, while Martin made a page of her own. Haner was left with two black eyes from the attack but is slowly recovering at home.
The Portland Police Bureau identified the suspect who kicked Haner as 25-year-old Marquise Love, who has yet to turn himself in. Investigators had also tried contacting Love, but they were unable to locate him.
"Have you ever seen anything like it? Every morning on the news for weeks, we hear about more destruction and violence related to protests and riots," Graham wrote on Facebook in response to the attack.
"It is surprising that the man didn't lose his life, as some have," he added.
"Our country is in trouble like we haven't seen before in our lifetime. We have no hope, outside of God," Franklin asserted. "We will not make it unless God's people call on His Name for help."
Graham has called for a prayer march on Saturday, September 26 at noon in Washington D.C. The march will start from Lincoln Memorial and go to the Capitol Building, where attendees will be praying for the nation in these unprecedented times.
"I hope thousands of concerned Americans who believe in the power of prayer will join me—and I hope you'll be one of them," he concluded.
Related:
Franklin Graham Invites Christians to Attend Prayer March in Washington D.C.
Photo courtesy: ©Billy Graham Evangelical Association
---
Milton Quintanilla is a freelance writer and content creator. He is a contributing writer for Christian Headlines and the host of the For Your Soul Podcast, a podcast devoted to sound doctrine and biblical truth. He holds a Masters of Divinity from Alliance Theological Seminary.
---
---