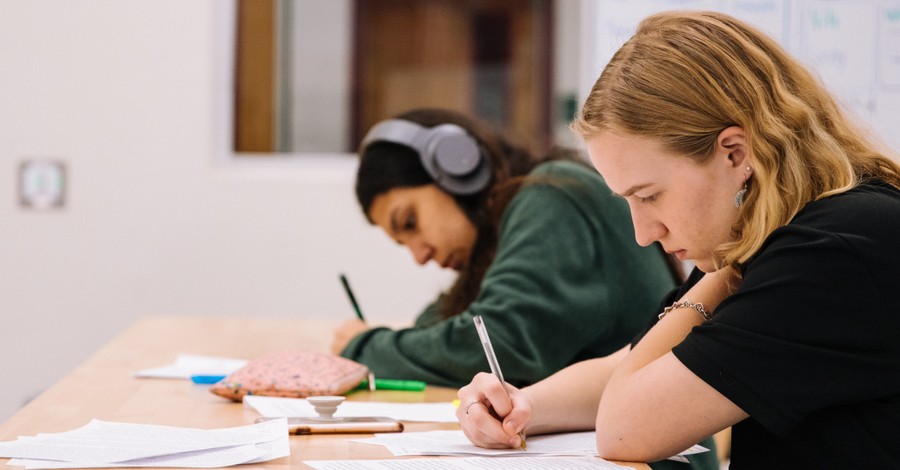 ---
In a ruling issued last week, France's education ministry banned schools from teaching about the use of gender-neutral pronouns, arguing that they are a threat to understanding the French language.
The Daily Mail reported that the ruling came after gender equality advocates sought to include "midpoints" or "full stops in the middle of written words." This would have allowed for male and female forms to be represented at the same time.
But the country's 400-year-old education authority, the Academie Francaise or the French Academy, which is responsible for preserving the French language, rejected the proposal, calling it "harmful to the practice and understanding of [the French language]."
According to The Associated Press, France's state secretary for priority education, Nathalie Elimas, called the proposed changes "a danger for our country" and "the death knell for the use of French in the world."
The use of midpoints, she added, "dislocates words, breaks them into two."
Elimas also noted that the changes would push people to learn English instead of French because the English language doesn't use gender nouns.
"With the spread of inclusive writing, the English language—already quasi-hegemonic across the world—would certainly and perhaps forever defeat the French language," she warned.
France's education minister Jean-Michel Blanquer told French newspaper Le Journal du Dimanche that the use of midpoints would pose a challenge to people with learning disabilities, such as dyslexia.
"In addition, this writing, which results in the fragmentation of words and agreements, constitutes an obstacle to reading and understanding the written word," Blanquer explained. "The impossibility of verbally transcribing texts using this type of writing hampers reading aloud as well as pronunciation, and consequently learning, especially for the youngest."
The ruling of the Academie Francaise was opposed by the SUD Education Union, a French teacher's union, urging schools to ignore it.
"SUD Education demands from the Minister that he stop trying to impose his backwardness on the educational community," the union said in a statement. "SUD calls on staff to take no account of these instructions from another time, and to exercise as they wish, depending on professional situations, the full use of their pedagogical freedom."
Photo courtesy: Jeswin Thomas/Unsplash
---
Milton Quintanilla is a freelance writer and content creator. He is a contributing writer for Christian Headlines and the host of the For Your Soul Podcast, a podcast devoted to sound doctrine and biblical truth. He holds a Masters of Divinity from Alliance Theological Seminary.