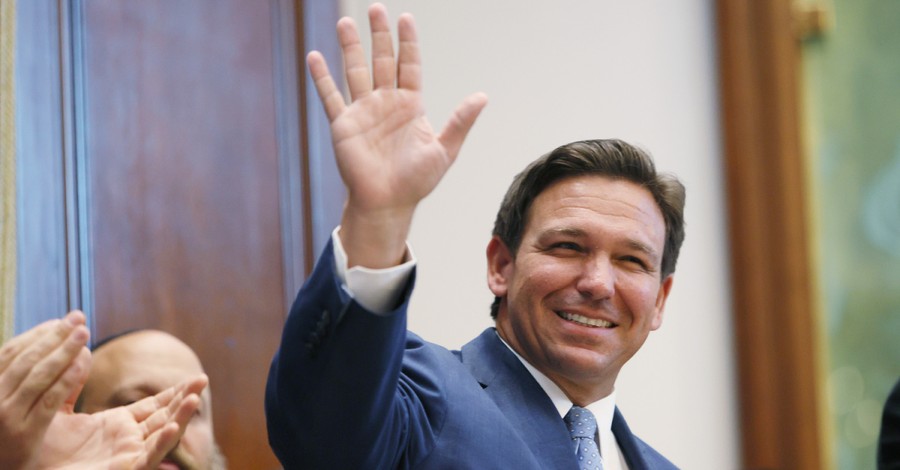 ---
A recent non-partisan straw poll found that most voters preferred Florida Gov. Ron DeSantis over former president Donald Trump as their presidential candidate for 2024.
Last weekend, the Western Conservative Summit took place at the Centennial Institute, a public policy think tank at Colorado Christian University. According to the poll's findings, 74 percent of attendees at the Summit "approve of" DeSantis as their 2024 presidential candidate. Trump, who came in a close second, received 71 percent approval.
Both candidates were subsequently followed by Sen. Ted Cruz (43 percent), former secretary of state Mike Pompeo (39 percent) and Sen. Tim Scott (36 percent).
Poll participants also approved of South Dakota Republican Gov. Kristi Noem (around 30 percent), followed by Sen. Tom Cotton at 29.92 percent, Sen. Rand Paul at 27.76 percent, and Donald Trump Jr. at 24.8 percent.
Former Vice President Mike Pence came in 10th place, receiving 21.56 percent of approval by the poll participants.
Meanwhile, Michelle Obama and Elisabeth Warren were the most preferred Democratic candidates with voter approval of 2.9 percent, followed by current president Joe Biden with 2.3 percent. Biden came in 16th place in the poll.
Further down the list was Vice President Kamala Harris, who received 1.89 percent approval from the summit attendees.
Attendees were also asked to mark 25 policy issues that mattered most to them.
The findings of the poll revealed that the five most important issues were immigration/border security (82 percent), election integrity (79 percent), religious freedom (75 percent), federal budget/deficit (74 percent), and gun rights (74 percent).
Issues placed at the bottom of the list included police reform (12.43 percent), race and racism (10.81 percent), COVID-19 (9.19 percent), environment/climate change (8.65 percent), diversity, equity and inclusion (5.68 percent), and LGBTQ (4.86 percent).
While Trump came second in the Western Conservative Summit straw poll, the former president topped DeSantis in the 2024 presidential straw poll at the Conservative Political Action Conference in February.
If Trump chose not to run in 2024, then DeSantis would win the support of the plurality of conservatives (43 percent) who attended CPAC, The Christian Post reports.
The top issues in the CPAC straw poll were election integrity (62 percent), constitutional rights (48 percent), immigration/border wall (35 percent), reopening the economy (32 percent), and the Second Amendment (26 percent).
Photo courtesy: ©Getty Images/Joe Raedle/Staff
---
Milton Quintanilla is a freelance writer. He is also the co-hosts of the For Your Soul podcast, which seeks to equip the church with biblical truth and sound doctrine. Visit his blog Blessed Are The Forgiven.