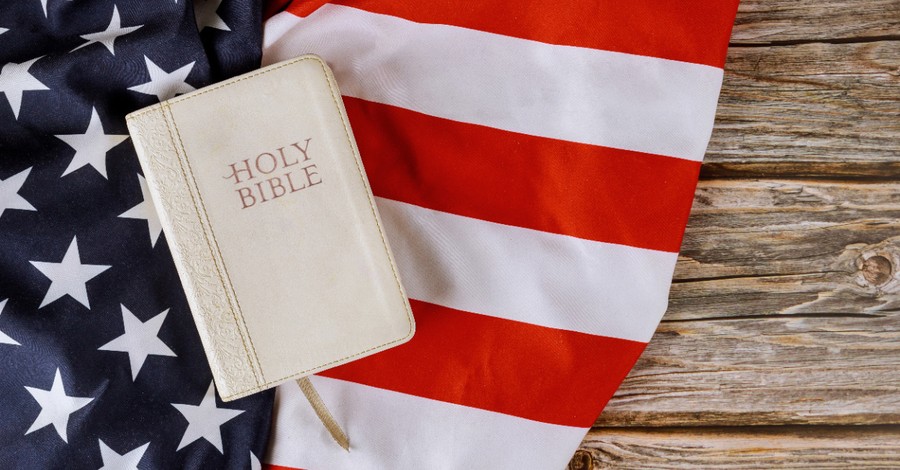 ---
Last week, three faith-based advocacy organizations launched a curriculum as part of a collaborative effort to help churches combat Christian nationalism.
The curriculum, titled Responding to Christian Nationalism, comprises three lessons created by Christians Against Christian Nationalism (CACN), Vote Common Good and Baptist Joint Committee for Religious Liberty. It is available to download as a free PDF on the CACN website.
The curriculum also responds with a webinar titled "Democracy and Faith Under Siege: Responding to Christian Nationalism," which was held in January by CACN January in the wake of the riot at the U.S. Capitol.
In a statement outlining their curriculum, CACN defines Christian nationalism as a view that "seeks to merge Christian and American identities, distorting both the Christian faith and America's constitutional democracy." The statement adds that "Christian nationalism demands Christianity be privileged by the State and implies that to be a good American, one must be Christian."
Amanda Tyler, Executive Director of Baptist Joint Committee, explained to The Christian Post that CACN had received several requests from pastors and church leaders "for additional resources to use with their congregations to better understand and respond to Christian nationalism in their communities and churches."
In response, Tyler said that the curriculum was created in the spring and released this summer as churches are planning their fall activities and as many are returning to in-person programming.
She contended that Christian nationalism is "at odds with the core tenet of Christianity — that is, that Jesus Christ is Lord" and is "pervasive throughout American society."
"Christian nationalism, Tyler said, "demands ultimate loyalty to political power rather than God. And therefore, can become idolatrous."
It is Tyler's hope that the curriculum, which "relies on Biblical passages and core Christian theology to differentiate the Christian religion and tenets of Christianity from the ideology of Christian nationalism," will give churches "a basic understanding of what Christian nationalism is and how racism feeds into Christian nationalism." She also hopes it will provide churches with "ways to respond to Christian nationalism that are grounded in Scripture and Christian understanding."
Vote Common Good, a progressive grassroots organization that encouraged Christians not to vote for former President Donald Trump in the 2020 election, is planning various methods to further promote the curriculum.
"Vote Common Good plans to get the curriculum in front of evangelical pastors through educational pamphlets, outreach to Christian schools and more," Vote Common Good Executive Director Doug Pagitt said in a statement emailed to The Christian Post.
Pagitt, who leads the Minneapolis-based church, Solomon's Porch, added that paid ads are also being considered "and will tap into our growing network of Pastors and Christian leaders nationwide to push for its implementation."
Photo courtesy: ©Getty Images/Photovs
---
Milton Quintanilla is a freelance writer. He is also the co-hosts of the For Your Soul podcast, which seeks to equip the church with biblical truth and sound doctrine. Visit his blog Blessed Are The Forgiven.