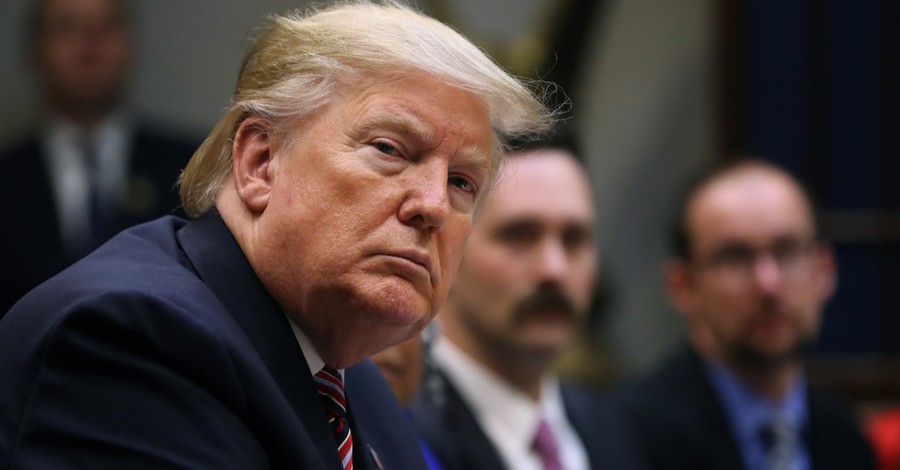 ---
In a recent interview with Fox News, Former President Donald Trump said he is '100 percent' thinking about running for president again in 2024.
Trump's comments were made during an interview with host Maria Bartiromo on Thursday morning, following President Biden's speech before a joint session of Congress Wednesday night.
Trump: '100%' thinking about 2024 presidential election run https://t.co/YflmZhrflu @MorningsMaria @FoxBusiness

— Maria Bartiromo (@MariaBartiromo) April 29, 2021
According to The Blaze, Trump added that his 2024 presidential platform would probably be centered on immigration, protecting the Second Amendment, tax policy and energy independence. Regarding the border, Trump told Bartiromo that it "has to be brought back to where I had it."
Trump also praised Florida Governor Ron DeSantis for his leadership and noted that he would consider him as a possible running mate in 2024.
"He is a friend of mine. Certainly, Ron would be considered," he continued. "I endorsed Ron, and after I endorsed him, he took off like a rocket ship. He's done a great job as governor. They like that. I'm just saying what I read and you read. They love that ticket."
Trump went on to take a shot at Biden for not addressing the present crisis taking place at the border during his speech before the joint Congress on Wednesday.
"He didn't discuss the border and the fact that tens of thousands of people are pouring into our country, many of them criminals, many of them, people from jails, many of them doing acts that you don't even want to know about," Trump said. "The wall is almost completed. It would have been completed if I didn't get sued by Congress and the Democrats every single moment — and we beat those cases. And they just don't want to finish it."
On taxes, Trump pointed out the shift between his administration and the Biden administration.
"You're going from the biggest decrease to the biggest increase in history," he explained. "It's going to be a shock to all people, not rich people, all people."
"Your gasoline prices, look what's happening to them. They're going up, through the roof, in a short period of time," he continued. "I had them down below $2 and we still had a strong energy industry."
In an interview with conservative host Dan Bongino on Wednesday, the former president made similar comments regarding another run for office. Trump told Bongino that "probably the appropriate time" to announce a presidential run would be "right after" the 2022 midterm elections.
Photo courtesy: ©Getty Images/Chip Somodevilla/Staff
---
Milton Quintanilla is a freelance writer. He is also the co-hosts of the For Your Soul podcast, which seeks to equip the church with biblical truth and sound doctrine. Visit his blog Blessed Are The Forgiven.