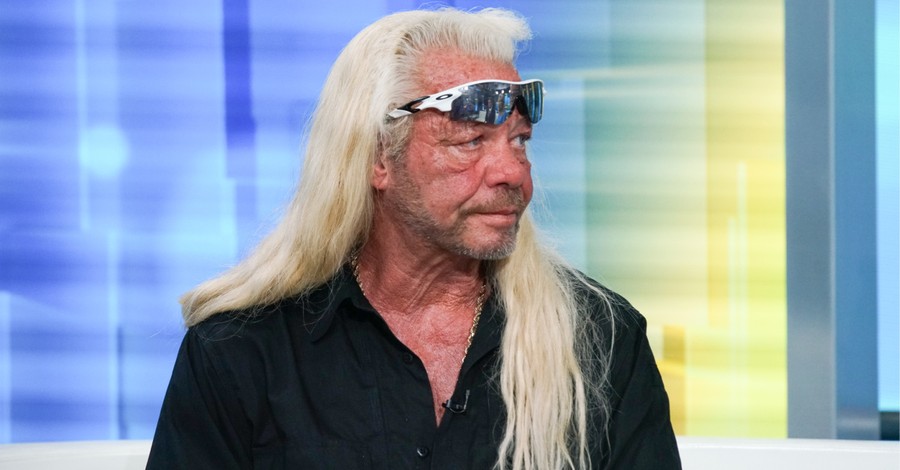 ---
TV personality "Dog the Bounty Hunter" has recently joined the hunt for fugitive Brian Laundrie, who has been branded by authorities as a person of interest following the homicide of his fiancée, Gabby Petito.
At the time when the search began, Dog, whose real name is Duane Chapman, had been honeymooning with his new wife, Francie, on Marco Island, Florida.
Jennifer Willingham, a Dog spokesperson, told The Christian Post that the bounty hunter's faith is what compelled him to take part in the manhunt.
"Dog and Francie, who are devout Christians, felt as if their proximity to the search was not a coincidence and they wanted to do something to help the Petito family," Willingham explained. "At the same time, Dog's fans were sending him tips and urging him to join the search."
"Therefore, Dog and his team, including his daughter Lyssa and Francie's son Greg, who are working from Hawaii and Colorado respectively, opened up a formal tip line, 833-TELLDOG, and volunteered their time to search for Laundrie this past weekend," she added.
According to Dog's official Twitter account, he and his team were searching for Laundrie in an island near Fort DeSoto Park in Pinellas County, Fla., where it had been confirmed that the Laundrie family had camped out days before Petito's reported disappearance.
Dog, who believes Laundrie could be hiding out in the woods, noted that ground teams, boat crews, and rescue dogs had been deployed in the area.
"This would be and could be a perfect spot for him to hide, not too many people out here. But there's a lot of environmental things that we're going to fight," the bounty hunter said on Wednesday.
"So here we go. The search now is really on. The search has just begun," he added.
Dog & team are still searching an island near Fort De Soto Park in Pinellas County, FL. K-9 teams have been brought in to assist. The search will continue into the evening.

Dog is grateful to everyone assisting & for the thousands of tips. Keep them coming in to 833-TELL-DOG. pic.twitter.com/TNEm8XM80f

— Duane Dog Chapman (@DogBountyHunter) September 29, 2021
According to the New York Post, North Carolina authorities have received a number of calls suggesting the Laundrie could be hiding out in the Appalachian Trail.
Petito, 22, was an aspiring travel blogger as she traveled across the country with Laundrie in her white 2012 ford van during the summer. The young woman was reported missing on Sept. 11 after her family had not heard back from her since late August.
On Sept. 19, Petito's remains were found in Bridger–Teton National Forest in Wyoming. Her death has since been ruled a homicide.
Laundrie, 23, had returned to his parents' North Point, Fla. home with Petito's van on Sept. 1 and later disappeared on Sept. 14 after his parents said he went hiking in a nearby Florida preserve.
The story has sparked national attention as new details continue to be uncovered in the case.
Experts believe that Petito and Laundrie's relationship could be abusive based on eyewitness accounts and body cam footage from Aug. 12 after Utah police pulled the couple over in response to a call about a male hitting a female in the town of Moab.
At the time, the police ruled the case as a mental-health break as opposed to domestic violence and separated the couple for the night.
On Thursday, new bodycam footage from the Aug. 12 incident shows an emotional Petito telling one of the officers that Laundrie assaulted her.
"Did he hit you though?" the officer asked, according to Fox News.
"I guess, yea," Petito answered. "But I hit him first."
When asked where Laundrie hit her, Petito backtracked her previous response and said that he grabbed her face with his nail.
"Did he slap your face, or what?" the officer asked.
"Well he like, grabbed me with his nail, and I guess that's why it looks, I definitely have a cut right here," she said, rubbing her cheek. "I can feel it, when I touch it it burns."
Photo credit: ©Getty Images/Bennett Raglin/Stringer
---
Milton Quintanilla is a freelance writer. He is also the co-hosts of the For Your Soul podcast, which seeks to equip the church with biblical truth and sound doctrine. Visit his blog Blessed Are The Forgiven.