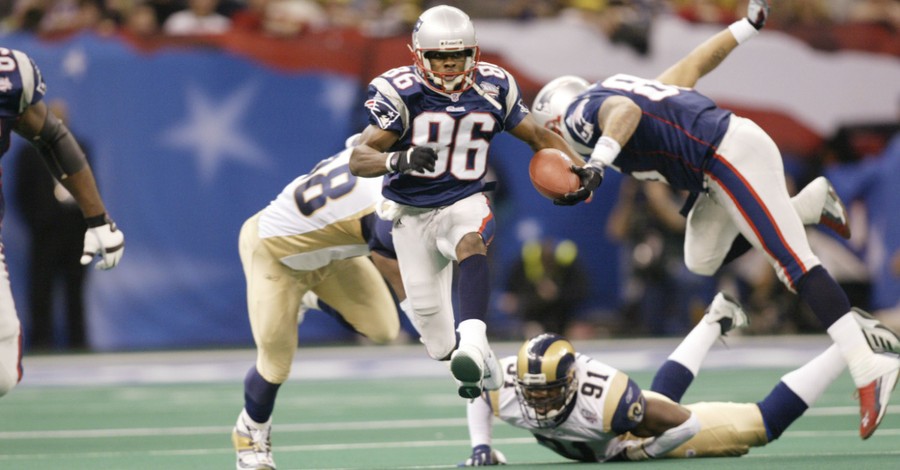 ---
Three-time Super Bowl Champion and devout Christian David Patten died in a motorcycle accident on Thursday outside Columbia, South Carolina. He was 47.
According to South Carolina Highway Patrol Lance Cpl. Nick Pye, Patten caused a crash with two other cars after crossing the median. One of the car's drivers has been hospitalized with undisclosed injuries, ESPN reported.
Over the course of his 12-year career, Patten played for 5 NFL teams as a wide receiver. He was best known for his time playing for the New England Patriots from 2001-2004, where he won three Super Bowl championships.
Upon hearing of Patten's death, Patriots owner Robert Kraft issued a statement noting that he was "heartbroken" over the loss.
"I am heartbroken by the news of David's passing," Kraft said. "He was a devout Christian who followed his passion following his football career and founded his own ministry. David transitioned from an undersized and understated wide receiver to a powerful and passionate preacher. In New England, he will always be remembered as a three-time Super Bowl Champion."
Former Patriots teammates Richard Seymour and Deion Branch also paid tribute to Patten on social media.
"Heartbroken," Seymour wrote. "Great man of God… lost for words – David Patten…"
heartbroken 💔 great man of God… lost for words - David Patten… 🙏 pic.twitter.com/DOMWJqjoBv

— Richard Seymour (@BigSey93) September 3, 2021
"Great Player, but Most of All A Great Man, Mentor and Brother," Branch wrote in a tweet.
🙏🏾🙏🏾🙏🏾🙏🏾🙏🏾🙏🏾 Great Player, but Most of All A Great Man, Mentor and Brother #LoveYou #ChiefChief https://t.co/BjUo0Kwbi6

— Deion Branch #83 #84 (@deionbranch84) September 3, 2021
Before being picked up to play in the NFL by the New York Giants in 1997, Patten played arena football for the Atlanta Firebirds in 1996. After playing two seasons with the Giants, Patten moved on to play one season with the Cleveland Browns in 2000.
Patten then, most notably, played for the New England Patriots from 2001-2004. During that time, the Patriots won the Superbowl three times. He later played for the Washington Football Team, known as the Washington Redskins at the time, (2005-2006) and the New Orleans Saints (2007-2008), before returning for a second stint with the Cleveland Browns and then the New England Patriots. He retired from the NFL in 2010.
Aside from his NFL career, Patten had a heart serving the Lord. In 2007, Patten took up a leadership role in a ministry. Seven years later, in 2014, he started his own church called AWOL Ministries.
"When I was called to ministry, I really committed myself to study God's word," Patten told Prime Sports Talk in 2019. "I didn't want to just preach for the sake of just preaching and studying the script and coming up with great sermons, and as God began to reveal His truth to me and I started [to] just think about the various stories, they are all inspiring."
Despite having attained success in professional football, Patten wanted his fans to ultimately remember him as a man of faith.
"Everybody remembers me as the three-time Super Bowl Champion," he continued. "But, I truly believe that my desire and how God elevates me that when people remember me, they will remember me as the next great preacher."
Patten is survived by his wife, Galiena, and their four children.
Photo courtesy: ©Getty Images/Andy Lyons/Staff
---
Milton Quintanilla is a freelance writer. He is also the co-hosts of the For Your Soul podcast, which seeks to equip the church with biblical truth and sound doctrine. Visit his blog Blessed Are The Forgiven.