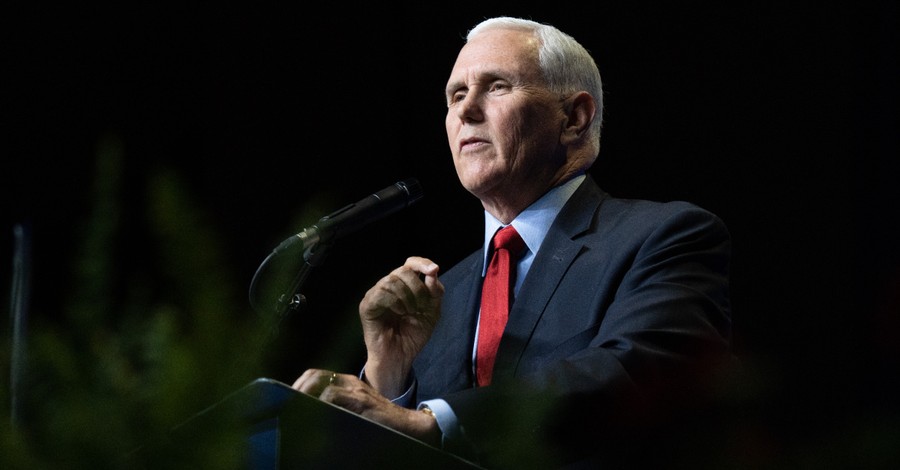 Over the weekend, conservative activists attended The Faith and Freedom Coalition's Road to the Majority conference to discuss how to win back Congress in the 2022 midterm elections.
The conference held in Kissimmee, Florida, featured a variety of guest speakers, including Republican Senators Ted Cruz, Rick Scott, and Lindsey Graham. Most notably, Florida Gov. Ron DeSantis and former vice president Mike Pence also delivered remarks.
Pence, who headlined the event on Friday, received a welcome of mixed emotions from the audience of about 3,000 people, with some Trump supporters holding frustrations over Pence's refusal to block the certification of the 2020 election.
In a clip provided by C-Span, several people can be heard chanting "traitor" as Pence took the stage. Most other audience members appeared to cheer Pence on. One reporter from the Washington Post noted that the hecklers who were shouting either left or were led out of the conference.
Former Vice President Mike Pence was met with heckles and chants of "traitor" as he took the stage Friday at the Faith & Freedom Coalition's "Road to Majority" conference in Kissimmee, Florida. pic.twitter.com/QD6FhDbUBj

— CSPAN (@cspan) June 18, 2021
According to CBN News, Pence touched on a variety of topics such as critical race theory, the recent conflict between Israel and Hamas and the crisis at the southern border.
"President Biden replaced strength with weakness, moral clarity with confusion and loyalty with betrayal," the former vice president said. "If the world knows nothing else, let the world know this: America stands with Israel."
"And yes, it's past time for our current Vice President to go to the border, put our policies back into effect and end the Biden border crisis today," Pence said.
On Saturday, DeSantis closed out the conference with a powerful speech, starting with how the Sunshine State has handled the COVID-19 pandemic.
"When COVID hit, we had to make a decision about how we were going to handle this in the state of Florida," DeSantis said. "As I saw over the initial weeks but then many months thereafter, state after state continuing to lock people down, I made the decision that Florida was going to lift people up."
"We are proud that we were the only large state in this country, for the entire school year, 100 percent of our parents were able to send a child to school in person," he added. "We were also very proud that I made it a policy of the state, regardless of what any local government thought, that everybody has a right to work and earn a living and every business has a right to operate and continue with their livelihood."
"Ultimately, Florida chose freedom over 'Fauci-ism,' and we are better off for it," DeSantis asserted.
DeSantis also stressed the importance of advancing the First Amendment right of religious freedom, a recurring theme at the conference.
"As conservatives, we have to advance policy that elevates the freedom of an individual over the freedom of an organization," the Florida governor said.
"People need to be taught why America was founded, why there are principles that made our country unique," he added. "People need to be taught that our rights don't come from the government. They come from God."
Ralph Reed, the Faith and Freedom Coalition founder and chairman, praised the turnout at this year's conference.
"Road to Majority exists to promote the free expression of American faith values, and we could not be more pleased with the energy and dedication demonstrated by both speakers and attendees alike this week," Reed said.
"The record level of turnout mirrors the drive we saw from these same activists and leaders in the 2020 election, and it is a great privilege to recognize the tremendous presence of the Black and Hispanic communities whose tireless work to reach neighborhoods into which we have been warmly welcomed," he added. "If this week is any indication, the foundation is being laid to win back the majority in 2022."
Photo courtesy: ©Getty Images/Sean Rayford/Stringer
---
Milton Quintanilla is a freelance writer and content creator. He is a contributing writer for Christian Headlines and the host of the For Your Soul Podcast, a podcast devoted to sound doctrine and biblical truth. He holds a Masters of Divinity from Alliance Theological Seminary.
---
---