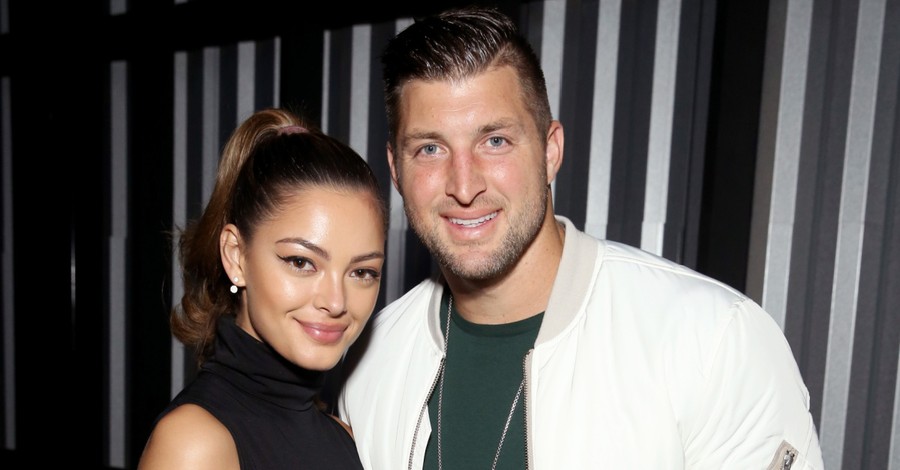 ---
Demi-Leigh Tebow, the wife of football star and outspoken Christian Tim Tebow, is working to raise awareness of human trafficking after she was almost abducted herself.
Tebow, 26, explained in an emotional video posted to Facebook that her experience is one reason she is "so passionate about giving women all over the world a voice, and an opportunity to reach out for help."
According to CBN News, Tebow recalled an incident, just months after she was crowned Miss South Africa in 2017, in which five armed men suddenly stopped her at a traffic light and attempted to kidnap her.
"I didn't know how that could end up in that moment, but I knew that I had to get away," she shared. "I didn't know exactly what they wanted from me, but I knew it wasn't good. I put up my hands. I surrendered, I gave them everything they needed, but the moment I tried running away, the guy on my side of the car grabbed me, and he pulled me, and he pushed me back into the car, yelling at me, 'Get in, you're going with us.'"
"At that moment," she recalled, "I said: No, I'm not. I'm not going with you. I don't care if you shoot me, if you kill me ... but I'm not going with you. And I did the best I could. I punched that guy as hard as I possibly could in his throat, and it gave me a split second to run away, and I did."
Tebow noted that she ran to seek help, but no one was willing to offer her assistance.
"As I ran up that avenue, I knocked on about 30, 40 car windows," she shared. "And do you know how many cars stopped for me? Not one. Not one person stopped to help. And I don't know what was more terrifying ... being attacked by these five armed men or not getting any help."
Nevertheless, she continued running and knocking on windows until a teenager pulled over and let her into her car.
"And she let me into her car. And she took me to safety," Tebow recalled, noting that she doesn't know what would have happened to her if it had not been for the help of that 19-year-old girl.
"I don't know if those men would have followed me, grabbed me, who knows. But I try not to think about that," she said.
In the video, pointing to her experience, Tebow encouraged others to be willing to help out a stranger in need.
"Don't be that person that shoves someone away, that rolls up your car window when someone is begging you for help," she said. "Be that person that leans over and opens up your car door and lets that person in and lead them to safety."
As part of her birthday celebration this year, Tebow launched a fundraiser on Monday dedicated to restoring the lives of women who are survivors of human trafficking. At the present time, donations have exceeded more than the primary $26,000, with the campaign setting a new goal of $126,000.
As of Wednesday, the fundraiser has raised over $125,500, with the funds going to Her Song, one of the anti-trafficking outreaches of the Tim Tebow Foundation, in providing shelter, physical and spiritual care to survivors.
Last August, the Tebows launched a separate effort, "Rescue Team," that works to combat human trafficking.
Photo courtesy: ©Getty Images/Robin Marchant/Stringer
---
Milton Quintanilla is a freelance writer. He is also the co-hosts of the For Your Soul podcast, which seeks to equip the church with biblical truth and sound doctrine. Visit his blog Blessed Are The Forgiven.