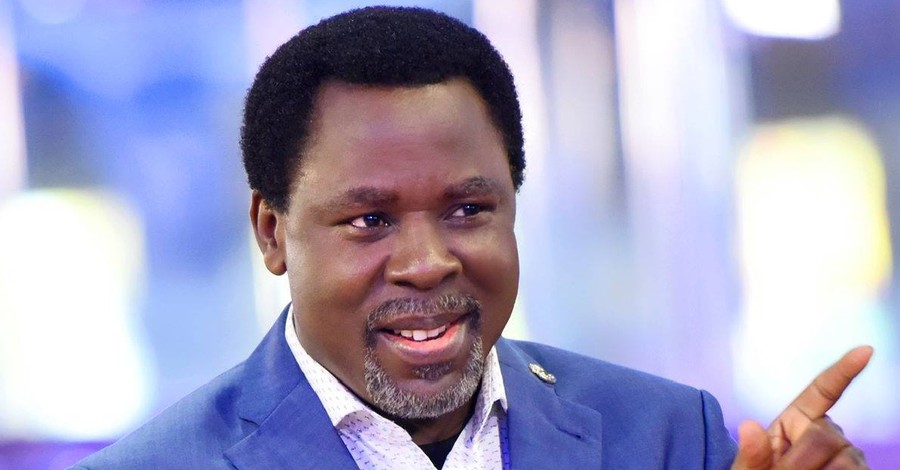 T.B. Joshua, an influential but controversial megachurch preacher from Nigeria, has died. He was 57.
Joshua, who founded the Synagogue Church of All Nations megachurch, spoke during an Emmanuel TV Partners Meeting on Saturday. According to The Christian Post, Emmanuel TV is the broadcast arm of the church that airs its services across Africa.
On the same day of the broadcast, Joshua started to feel uncomfortable and died hours later after returning to his apartment, Nigerian news outlet The Nation reports.
His death is said to have occurred at around 2 a.m. No cause of death had been disclosed publicly.
The announcement surrounding Joshua's death was made through his ministries' Facebook page.
"God has taken His servant Prophet TB Joshua home – as it should be by divine will," the church wrote. "His last moments on earth were spent in the service of God. This is what he was born for, lived for and died for. As Prophet TB Joshua says, 'The greatest way to use life is to spend it on something that will outlive it.'"
The church noted that Joshua's last words were said to be "Watch and pray."
"Prophet TB Joshua leaves a legacy of service and sacrifice to God's Kingdom that is living for generations yet unborn," the statement continued.
Joshua, who was known by his followers as 'The Prophet,' rose to prominence in the late 1990s as a prosperity preacher.
In 2011, Forbes listed Joshua as the third-richest pastor in Nigeria with an estimated net worth of between $10-$15 million.
Despite his popularity, Joshua faced multiple controversies throughout the years.
Most recently, YouTube shut down Joshua's YouTube channel in April because of a video where he claimed to have cured members of his congregation who identified as a part of the LGBTQ+ community.
In 2014, Joshua came under fire for sending 4,000 bottles of his special anointing water, which users claimed had worked many miracles, to help victims of the deadly Ebola virus in Sierra Leone, Liberia.
At the time, his ministry noted on Facebook that the anointing water was "sent in a private jet that cost an additional $50,000 to charter, making [it] $100,000 given by Prophet T.B. Joshua and the Emmanuel TV Partners to reach out to the troubled nation."
"By using the Anointing Water, you are symbolically setting yourself apart for Jesus Christ's special attention as you pray in faith. I mean, you are positioned for mercy, favor, healing, deliverance, blessing, prosperity and fruitfulness," Joshua wrote on the church website at the time.
"It is not the Anointing Water that heals the sick but Jesus Christ Himself," he contended. "There must be faith both in the person praying and in the person being prayed for. Prayer must proceed from and be accompanied with a lively faith. It is this that brings about the healing, not the Anointing Water," he wrote.
Then, in 2015, Synagogue Church of All Nations, under Joshua, was indicted by a coroner for criminal negligence after a building belonging to the church collapsed in September 2014, killing 116 worshippers.
According to The Christian Post, at the time, Joshua alleged that the building collapse was the result of an attack by Islamic extremists from Boko Haram.
Joshua's death comes just 6 six days before his 58th birthday. He is survived by his wife, Evelyn, and their three children.
Photo courtesy: T.B. Joshua Ministries Facebook
---
Milton Quintanilla is a freelance writer and content creator. He is a contributing writer for Christian Headlines and the host of the For Your Soul Podcast, a podcast devoted to sound doctrine and biblical truth. He holds a Masters of Divinity from Alliance Theological Seminary.
---
---