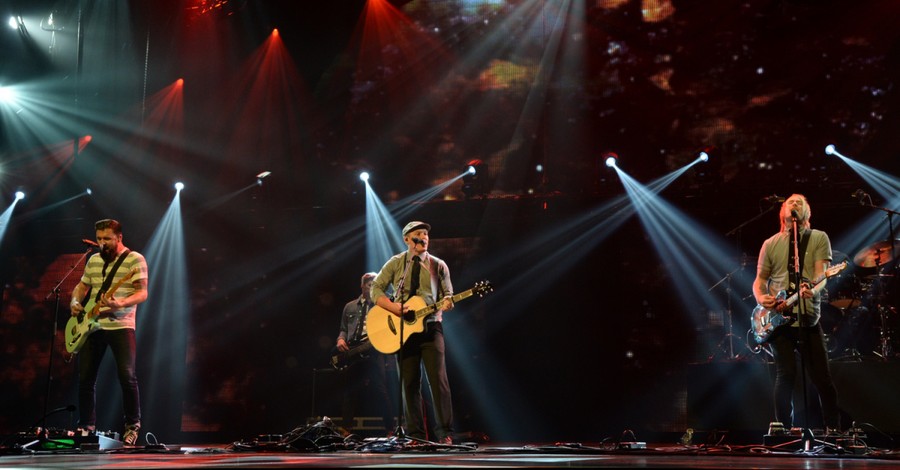 In a recent interview with The Christian Post, members of the Christian rock band Kutless addressed various topics, including early criticisms of the band for playing rock music, the 20th anniversary of the release of their debut album and the recent trend of deconstructionism in the church.
Kutless, based in Portland, Oregon, had initial success in their early years as a band, topping the CCM charts. Despite its success, the band faced backlash from some Christians for being a rock band.
"When we first started, we were still told all the time, 'Rock music is evil. You shouldn't have drums in your music. You guys are Satan worshipers,' people accused us of all sorts of things," Kutless guitarist and songwriter James Mead told The Christian Post.
"We've had people standing outside our shows picketing; we've had evil things written about us and said about us," he continued. "And at the end of the day, you just have to remind yourself that Jesus' promises for me are true and what is important about my identity is how my Holy Father sees me. And we just knew we needed to keep pressing on because we had a message to share."
Kutless lead singer Micah Sumrall added that it was a challenging time for the band because many believed worship and rock music were incompatible.
"I remember some guys picketing our show outside. And we told him, 'Hey, don't knock it till you've checked it out, man. Like, come in.' And they wouldn't come in, of course, but I was like, 'We'll get you tickets, we'll get you hooked up, come inside, see what we do, and then you can tell me that I'm going to Hell,'" Sumrall recalled.
"I was like, 'We're bringing in people from all different backgrounds and types, and we're sharing God with them. … Look, this is rock and roll. We're having a good time. But it's got a purpose. And it's got depth to it."
The band also shared that they felt God was commissioning them to reach the world with their music following the 9/11 terrorist attacks.
"It was very clear to us what we had to do," Mead explained. "And so, as people came against us to try and stop us, we just kept going. And I think over time, we kind of wore people down, or maybe … over time we earned their trust. We have always been a band that tried to keep our focus on Jesus with our music and with our ministry. And over time, we earned trust with the people that really could help make a difference. And that's what worked."
Kutless celebrated the 20th anniversary of their self-titled first album, Kutless, by re-recording the hit songs "Your Touch," "Run" and "Tonight" for their EP, Twenty, last month.
The release comes after Kutless took a five-year hiatus, during which they faced personal loss and financial struggles.
"We really needed to take a break and heal and cry and learn how to trust people again," Mead said.
Now, the band has returned to the studio to record new music and is also planning to launch a podcast that will dive into their years on the road.
"I feel like God, if we were in a cave, kind of licking our wounds for the last five years, I feel like God is saying, 'OK, guys, it's time to come out of the cave now.' That's kind of what it feels like within Kutless right now," the guitarist added.
During the interview with The Christian Post, the band addressed the growing trend of deconstruction among Christian musicians, including Hillsong's Marty Sampson and Hawk Nelson's lead singer Jon Steingard. Both Sampson and Steingard have publicly renounced their faith.
Kutless stressed that the church must do a better job of coming alongside believers who are struggling with doubts about their faith.
"I think there needs to be a collective taking on of the personality of Christ, who went and found doubters in His ministry," Mead asserted. "He went and found the … people who were pushed to the fringes of society … He spent time with them."
"We draw lines in the sand because we're so scared to have to defend the Gospel, but the Gospel defends itself, the Holy Spirit will lead," he continued. "Restoring a brother or sister to faith, if they're doubting, so much of that is done through patience, and love, and just being their friend, and continually pointing to Christ in what's happening in your life, and not smothering them with it."
Related:
Jordan Feliz Reveals That C.S. Lewis Inspired Contemplative Song 'Another World'
Photo courtesy: ©Getty Images/Rick Diamond/Staff, Kutless in 2014
---
Milton Quintanilla is a freelance writer and content creator. He is a contributing writer for Christian Headlines and the host of the For Your Soul Podcast, a podcast devoted to sound doctrine and biblical truth. He holds a Masters of Divinity from Alliance Theological Seminary.
---
---