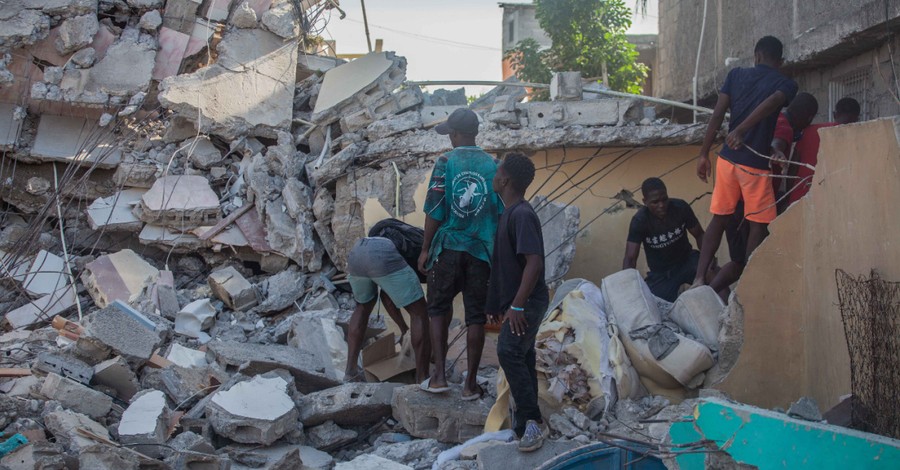 Christian organizations World Vision and Samaritan's Purse are providing aid to Haiti after a powerful 7.2-magnitude earthquake struck the island nation on Saturday, killing nearly 1,300 people.
According to the Associated Press, the death toll rose to 1,297 on Sunday, and the number of people injured rose to at least 5,700.
Additionally, thousands of Haitians have been displaced. The Haitian Office of Civil Protection said more than 7,000 homes were destroyed and nearly 5,000 damaged. Other buildings affected by the earthquake include hospitals, schools, offices and churches.
As reported by the U.S. Geological Survey, the earthquake's epicenter was about 78 miles west of the capital city of Port-au-Prince.
Haitian Prime Minister Ariel Henry has declared a one-month state of emergency for the entire country and has called for aid in areas affected by the disaster.
"The first convoys started following the coordination efforts of several ministers mobilized at the level of the National Emergency Center," Henry explained to reporters on Sunday.
"We salute the dignity, the resilience effort of the victims and their ability to start over," he added. "From my observations, I deduce that Haitians want to live and progress. Let us unite to offer these people a living environment conducive to development."
Saturday's earthquake, which was followed by a 5.2-magnitude aftershock, is stronger than the magnitude 7.0 earthquake that struck Haiti in 2010, killing more than 300,000 people, according to the Haitian government.
In a statement published by UNICEF Executive Director Henrietta Fore, there was an urgent humanitarian need for many Haitians, such as health care, clean water, and shelter.
"Little more than a decade on, Haiti is reeling once again," Fore stated. "And this disaster coincides with political instability, rising gang violence, alarmingly high rates of malnutrition among children, and the COVID-19 pandemic — for which Haiti has received just 500,000 vaccine doses, despite requiring far more," Fore concluded.
Several Christian humanitarian aid organizations, including World Vision and Samaritan's Purse, have deployed aid to affected communities in Haiti, a country with a population of 11 million.
According to their website, World Vision has prepared supplies to provide immediate relief to 6,000 people. It is also mobilizing staff to send out to the hard-hit area of Les Cayes, south of Port-au-Prince, to accurately assess the damages and needs of the most affected families.
Meanwhile, Samaritan's Purse has airlifted aid to the Caribbean country, including more than a dozen disaster response specialists, emergency shelter material, medical supplies and water filtration units towards the hurting communities.
"This massive earthquake has devastated Haiti—it's left many families homeless and searching for their loved ones," Franklin Graham, president of Samaritan's Purse, said in a statement. "We are responding to help meet needs in Jesus' Name. Please pray for Haiti and all those who are suffering."
The nation, which is still grappling with the recent assassination of its president, the COVID-19 pandemic and growing gang violence, is also facing the threat of Tropical Depression Grace. The storm is expected to make landfall on Monday night.
Related:
At Least 29 Dead after 7.2 Magnitude Earthquake Hits Haiti
Prayers for Haiti: UPDATED for the Earthquake and as They Grieve the Death of Jovenel Moïse
Photo courtesy: ©Getty Images/Stringer
---
Milton Quintanilla is a freelance writer and content creator. He is a contributing writer for Christian Headlines and the host of the For Your Soul Podcast, a podcast devoted to sound doctrine and biblical truth. He holds a Masters of Divinity from Alliance Theological Seminary.
---
---