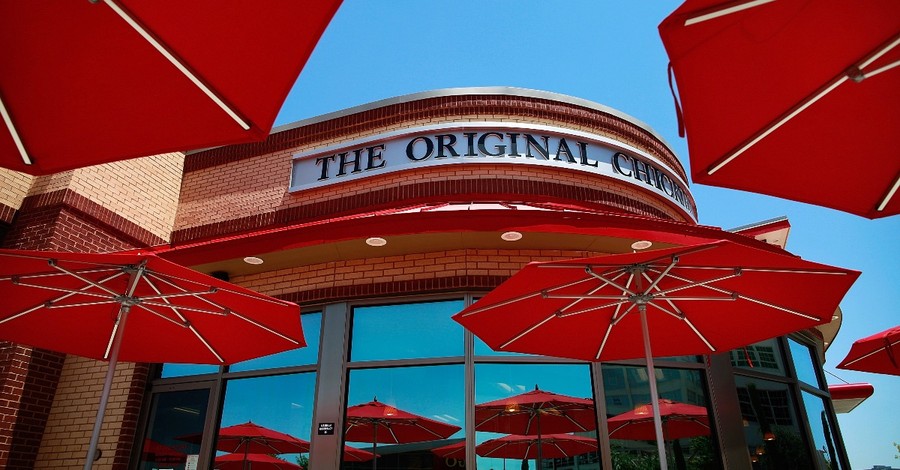 ---
A Texas-based Chick-fil-A set to open this spring was literally built on the Bible. When the foundation for the restaurant was laid, a Bible was placed in it.
The chicken restaurant, based in Marshall, will be led by East Texas natives David and Holley Snow. David, who played college football at the University of Texas, had a brief stint in the NFL as a linebacker for the Buffalo Bills and Pittsburgh Steelers. Holly, also a University of Texas graduate, was a former news reporter for the ABC-affiliate stations KLTV and KTRE before marrying her husband in 2012.
The Snows are committed to God and wanted to honor Him through their restaurant by making the Bible a part of its foundation. According to Church Leaders, the couple's 4-year-old son, Montgomery, placed a Bible on the foundation during construction. The Bible was left open to Joshua 1:9, which reads, "Have I not commanded you? Be strong and courageous. Do not be afraid; do not be discouraged, for the Lord your God will be with you wherever you go."
Eric Skwarczynski, the host of the Preachers Boys Podcast, asked his followers to make sense of the Bible being placed in the restaurant's foundation.
"They buried a Bible under their Chick-fil-A," he tweeted, along with a photo of the Bible and a post from Chick-fil-A Marshall's Facebook page celebrating the occasion.
Comments from Twitter users ranged from "building on a good foundation, the Word of God" to they're "destroying a perfectly good Bible."
They buried a Bible under their Chick-fil-a.@kkdumez - you've researched American Christianity heavily… please make sense of this? pic.twitter.com/DF4DzjOdng

— 𝕰𝖗𝖎𝖈 𝕾𝖐𝖜𝖆𝖗𝖈𝖟𝖞𝖓𝖘𝖐𝖎 (@theEricSki) January 23, 2022
The Snows, however, were unable to attend the event because their second daughter, Wynter, was being born. Wynter, who was born in October, was diagnosed with Down syndrome, a congenital heart defect, and an esophageal defect. In a post on Facebook, Holly explained that her baby daughter had already undergone her first surgery at three days old with more procedures to come.
"We firmly believe God thought of & uniquely designed our Wyn, just as He wanted her here on Earth – in His image," Holley Snow wrote. "Wynter is an answer to countless prayers, a daughter of the King & an absolute miracle – unlike anything we've ever witnessed on this Earth."
Wynter was given the middle name of Rhea in honor of Rhea F. Miller, who wrote the song "I'd Rather Have Jesus." Holly explained that the song was stuck in her head "before we ever were told any news about our girl."
As a result, the Snows "decided early on, we would rather our children have Jesus than anything else this world says is 'normal.' Heaven is the goal, & if our girl can worship Jesus & point others to Him, it's worth more than silver or gold, houses or land, man's applause or anything this world affords."
"Our God is in the happy & sunshine, but he's also in the lowest, darkest, stormiest moments," Holly continued. "As the date for Wynter's open-heart surgery nears, her mother admits being fearful yet is taking comfort in God, who "truly is near to the brokenhearted."
Chick-Fil-A, which has received praise and criticism for its Christian principles, has topped the list of America's favorite fast-food chain for seven years in a row.
Photo courtesy: ©Getty Images/Tom Pennington/Stringer
---
Milton Quintanilla is a freelance writer and content creator. He is a contributing writer for Christian Headlines and the host of the For Your Soul Podcast, a podcast devoted to sound doctrine and biblical truth. He holds a Masters of Divinity from Alliance Theological Seminary.