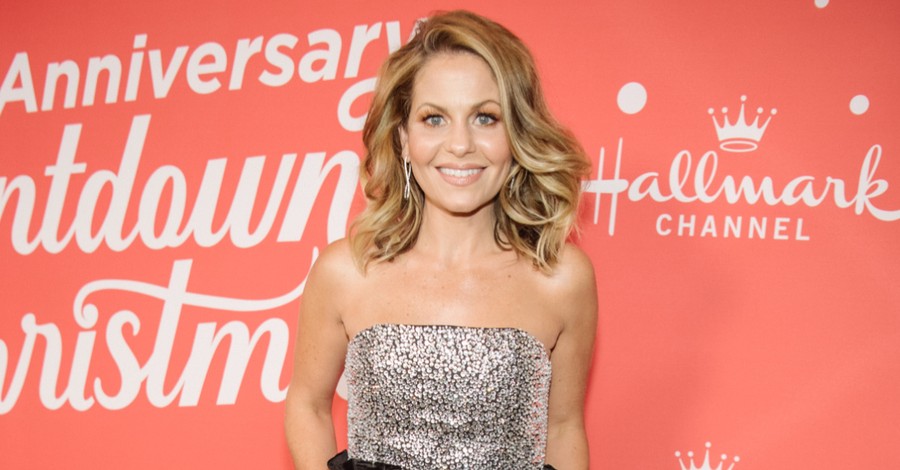 As headlines about heavy and, at times, overwhelming world events cross our screens, actress and outspoken Christian Cameron Candace Bure encouraged her fans to participate in a "gratitude challenge."
"Do you ever scroll through Instagram and just get sad at the state of the world? That's me right now," the Fuller House star told her 5.5 million followers in an Instagram story last week.
In the video, Bure, who was overcome with emotion, is shown covering her face with her hands as she expressed her frustration.
As reported by The Christian Post, she then issued a "gratitude challenge," encouraging her followers to live a life of gratitude.
"I'm going to think of the things that I am grateful for," she explained.
"I am grateful for God, Lord Jesus Christ, who's in control of all of it," Bure added. "I'm grateful that He's already given all of us and me the ability to be justified before Him and be sanctified throughout the process of my life and that He redeems it all at the end."
A few weeks ago, Bure took to social media to lament the mass shooting at an elementary school in Uvalde, Texas.
"With the tragedy and the loss of those 21 people, that is so hard, and as a mother, I grieve, and I just want to grieve with the people of Uvalde and the families," the teary-eyed actress said.
As Christian Headlines previously reported, in an Instagram story last month, Bure told her followers that her home was under attack from the devil and her home was filled with tension.
"It's been cranky in my house for the last few days to the point that it's weird," Bure shared at the time. "Like my house is usually really peaceful and happy. Everyone's been irritable, including me, and everyone is just like at each other. It's been like three days now."
"It finally hit me," she added. "I'm like, 'Oh, there's a spirit of irritability, there's a spirit of crankiness, there's a spirit of confusion. Oh, the enemy's attacking!"
"I think so easily, we forget, and we want to just blame one another when things go wrong. And we forget that there's a very real and powerful enemy at work every single day of our lives," the author of Kind Is The New Classy said.
"That enemy is the devil. He's real, and he's at work, but the devil has no control or authority in my home," she asserted.
Bure then proceeded to make a declaration of faith and encouraged others to remain spiritually alert.
"Jesus has all authority, all power in my home, and reigns in my home!" the mother of three declared.
"I call upon the Holy Spirit. I pray out any evil spirits that are in here," Bure continued. "And I put on my worship music; it's just filling my home. So my home is filled with Scripture, and God's Word, God's power, God's truth, and I just keep reminding myself of that."
In April, Bure took an executive role at the family-friendly GAC Media. She will produce and star in television shows and films for the network.
Related:
Candace Cameron Bure Urges Audience to Chase Joy, Not Happiness: Joy 'Comes from God'
Candace Cameron Bure on Having Peace: 'Jesus Has All Authority, All Power in My Home'
Candace Cameron Bure Got Danica McKellar Back in Church: 'It's Blowing My Mind,' McKellar Says
Candace Cameron Bure Leaves Hallmark, Signs with Family-Friendly Rival GAC Media

Photo courtesy: ©Getty Images/Morgan Lieberman/Stringer
---
Milton Quintanilla is a freelance writer and content creator. He is a contributing writer for Christian Headlines and the host of the For Your Soul Podcast, a podcast devoted to sound doctrine and biblical truth. He holds a Masters of Divinity from Alliance Theological Seminary.
---
---