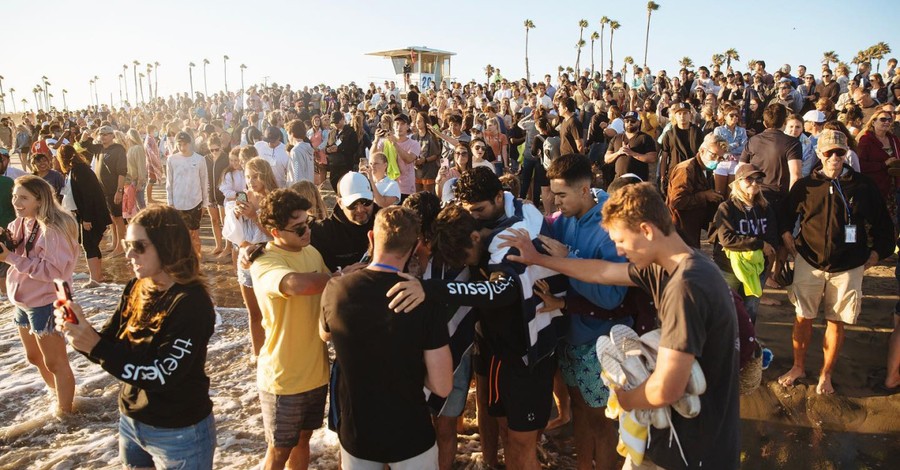 An ongoing movement known as Saturate OC, led by Parker and Jessi Green, is bringing about a spiritual revival at Huntington Beach in Orange County, California.
The movement began on Friday, July 3rd, and has recently extended its weekly services to August 7th. The movement has received some push back as many people are choosing not to wear face masks while gathering.
According to The Christian Post, the couple had moved to California from New York after God showed them a "profound vision" in 2016.
"We came to California on a vacation and as we prayed, we saw a picture of thousands of people being baptized along Huntington Beach Pier; the harvest was so massive, people were quickly turning around to baptize the person behind them," Jessi explained on the Saturate OC website.
"There was a ripple effect to this move of God. I believe that there is a massive harvest for THE CHURCH in Orange County to participate in and we need to prepare the nets of discipleship," she added.
Jessi noted that God was preparing them for a tremendous harvest of souls in the summer of 2020.
"'There's a 50,000-person Harvest in Huntington Beach during Summer 2020. Pray for workers.' This is the word God has been speaking to me," she wrote.
As the movement continues to grow, multiple churches have joined Saturate OC over the past few weeks.
"People were coming to the front repenting of sexual sin, and falling to the ground and not knowing why they are falling to the ground, and then feeling the presence of God in a way they've never experienced," she said.
Reportedly, the spiritual movement is seeing not only the lives of adults being transformed but the lives of children as well.
"And this revival is really moving among the children. We are seeing tons, and I would say within the last two weeks 60 children chose to be baptized — ages 3 years old to 16," Jessi asserted.
While Gov. Gavin Newsom continues to keep churches closed due to COVID-19, the Greens asserted that Saturate OC remains in full force, CBN News reports.
"California just announced this week that the church can't meet inside - The Good News is that on Friday we declared "The Church Has Left The Building," Jessi wrote on Facebook last Wednesday. "You can't stop the Kingdom of God!"
According to Fox News, Bethel Music worship leader and activist Sean Feucht likened Saturate OC to the 'Jesus People Movement' of the 1960s and 70s.
"It's eerily similar," Feucht said, "There were protests, racial and social strife. Hippies were getting saved. A movement happened in California and swept across America, and even major news outlets covered it."
Following a service on Huntington beach, Feucht noted how people were receiving Christ after the Gospel was preached and were also being baptized. He asserted that God is moving even in the midst of the pandemic.
"We just had an amazing time of worship. We are here baptizing people in the Pacific Ocean and God is moving in California," Feucht shared in a video on Twitter. "I know it's the middle of a global pandemic and things are crazy, but in the midst of it all, God is moving."
Could this be the beginnings of another Jesus People Movement in California? pic.twitter.com/aD89YsOfGh

— Sean Feucht (@seanfeucht) July 11, 2020
Photo courtesy: Saturate OC Facebook
---
Milton Quintanilla is a freelance writer and content creator. He is a contributing writer for Christian Headlines and the host of the For Your Soul Podcast, a podcast devoted to sound doctrine and biblical truth. He holds a Masters of Divinity from Alliance Theological Seminary.
---
---