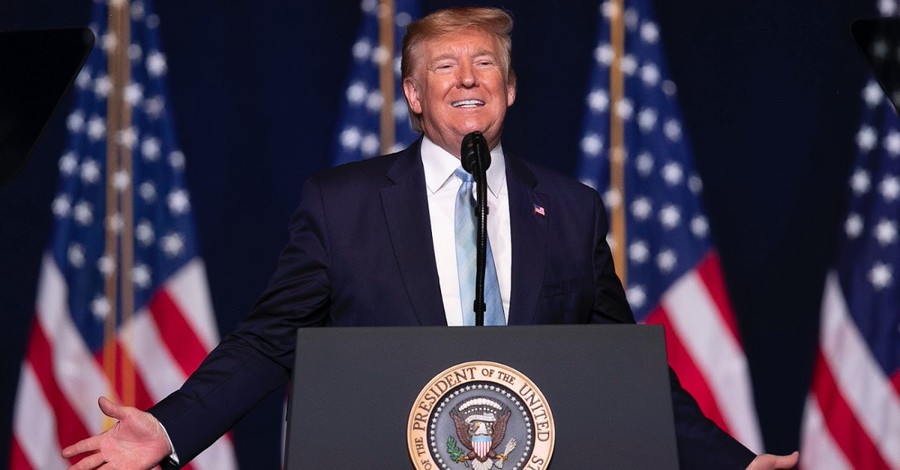 ---
Jerushah Duford, the granddaughter of the late famed evangelist Billy Graham, is speaking out against Evangelicals who have shown unwavering support for President Trump.
In an op-ed for USA Today, Duford explained that despite being a lifelong churchgoer who makes every major decision based on her faith, in the wake of Donald Trump's presidency and how it has molded the church, she feels "homeless."
"Like so many others, I feel disoriented as I watch the church I have always served turn their eyes away from everything it teaches," she wrote on Monday. "I hear from Christian women on a daily basis who all describe the same thing: a tug at their spirit."
Duford went on to criticize evangelical leaders for praising President Trump while remaining silent on Trump's desire to push low-income housing out of the suburbs.
She also brought up Trump's photo-op in front of St. John's Church in Washington, D.C.'s Lafayette Square back in June. She asserted nearby protestors were dispersed with tear gas so that the President could have a photo taken of him holding a Bible in front of the church.
"He held a Bible, something so sacred to all of us, yet he treated that Bible with a callousness that would offend anyone intimately familiar with the words inside it," Duford argued. "He believed that action would honor him and only him. However, the church, designed to honor God, said nothing."
"The entire world has watched the term 'evangelical' become synonymous with hypocrisy and disingenuousness," she added.
Duford then cited one of her grandfather's favorite Bible verses Micah 6:8 which says, "the Lord requires of his people to do justly, to love kindness and mercy, and to walk humbly."
"These are the attributes of our faith we should present to the world," Duford asserted. "We can no longer allow our church leaders to represent our faith so erroneously."
In a recent family gathering, Duford noted how many female family members praised her for speaking out against Trump as they also felt the same.
"With tears in their eyes, they used a hushed tone, out of fear that they were alone or at risk of undeserved retribution," she wrote.
Duford went on to encourage women of faith to speak out even when everyone else remains silent.
"The God we serve empowers us as women to represent Him before our churches. We represent God before we represent any political party or leader. When we fail to remember this, we are minimizing the role He created for us to fill. Jesus loved women; He served women; He valued women and we need to give ourselves permission to stand up and do the same," Lynch argued.
"Now I am asking all of you that feel as I do, to embrace your inner tug, and allow it to lead you to use the power of your God-given voice and not allow Trump to lead this country for another four years," she concluded.
Duford recently joined the women's coalition of The Lincoln Project, an anti-Trump organization comprised of Republicans and former Republicans. The group seeks to prevent Trump from winning re-election by voting for Joe Biden in November.
The announcement was made after Duford's uncle, evangelist Franklin Graham, was scheduled to speak at the Republic National Convention on Thursday. Graham, who leads Samaritan's Purse and The Billy Graham Association, has been a staunch supporter of the President.
Duford told Newsweek on Monday that she has not spoken to her uncle, "but his voice was a large reason for my speaking out."
As Christian Headlines previously reported, on Tuesday, Franklin Graham's daughter, Cissie Graham Lynch, made her endorsement of Trump on the second night of the Republican National Convention.
Related:
Biden-Harris Vision of America 'Leaves No Room for People of Faith,' Cissie Graham Lynch Says
Republican National Convention to Include Several Conservative Christian Speakers
5 Things Christians Should Know about the Faith of Donald Trump
Photo courtesy: ©Getty Images/Joe Raedle/Staff
---
Milton Quintanilla is a freelance writer and content creator. He is a contributing writer for Christian Headlines and the host of the For Your Soul Podcast, a podcast devoted to sound doctrine and biblical truth. He holds a Masters of Divinity from Alliance Theological Seminary.