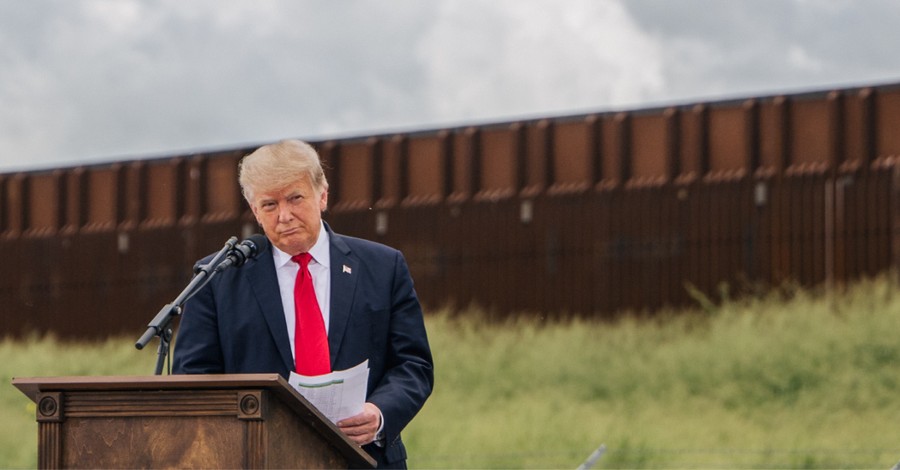 On Wednesday, while visiting the southern border, former President Donald Trump criticized current President Joe Biden for mishandling the immigrant crisis.
According to U.S. Customs and Border Protection data, since Biden took office, there has been a significant increase in the number of encounters between migrants and law enforcement officials at the U.S.-Mexico border, with the recent number standing at 180,034 in May.
The number of encounters in May showed a minor increase from April, which had 178,854 border crossings. However, the number of encounters between May 2021 and May 2020 differed tremendously, with only 23,237 crossings happening last year.
In the entire fiscal year of 2020, there were 458,088 encounters between migrants and law enforcement officials. In the 2021 fiscal year, despite having four months to go, the number of border crossings has already far surpassed 2020's number with a documented 929,868 encounters.
Trump, who visited an unfinished section of the border wall with Texas Gov. Greg Abbott on Wednesday, accused Biden of "destroying our country" before contending that the situation at the border would look much different if he were still in office.
"This wall would have been completed," Trump said, pointing to Biden's decision to halt the construction of the southern border wall. "Within two months, everything could have been completed. It would have been painted, not sitting there rotting and rusting."
In a border security briefing ahead of the border wall visit, Trump contrasted the state of border security under his administration to that of Biden. According to The Christian Post, the former president argued that he left office with "the best border we've ever had in the history of our country," only for it to dissipate within "a period of a few months."
"Now, we have an open, really dangerous border, more dangerous than it's ever been in the history of our country," he added.
"We have a sick country in many ways. It's sick in elections and it's sick at the border. And if you don't have good elections and if you don't have a strong border, you don't have a country," Trump warned.
Several days earlier, Vice President Kamala Harris, who was appointed as Biden's border czar, visited El Paso. Harris was widely criticized for not visiting the epicenter of the border crisis, which was 790 miles away.
In his closing remarks at the security briefing, Trump also took a shot at Harris, noting that "we're going to the border right now, but we're going to the real part of the border where there's real problems, not the part where you look around and you don't see anything."
Before the border visit, Trump wrote an op-ed for The Washington Times urging the Biden Administration to finish the border wall.
"Our nation is being destroyed by Biden's border crisis," the former president wrote. "The United States must immediately restore the entire set of border security and immigration enforcement measures we put into place — and critically, we must finish the wall."
"A nation without borders is not a nation at all. For the sake of our country, Joe Biden must finish sealing the border, or the American people must elect a Congress that will."
Related:
Vice President Kamala Harris to Make First Visit to U.S.-Mexico Border
Governor Greg Abbott Announces That Texas Plans to Continue Building Border Wall

Photo courtesy: ©Getty Images/Brandon Bell/Staff
---
Milton Quintanilla is a freelance writer and content creator. He is a contributing writer for Christian Headlines and the host of the For Your Soul Podcast, a podcast devoted to sound doctrine and biblical truth. He holds a Masters of Divinity from Alliance Theological Seminary.
---
---