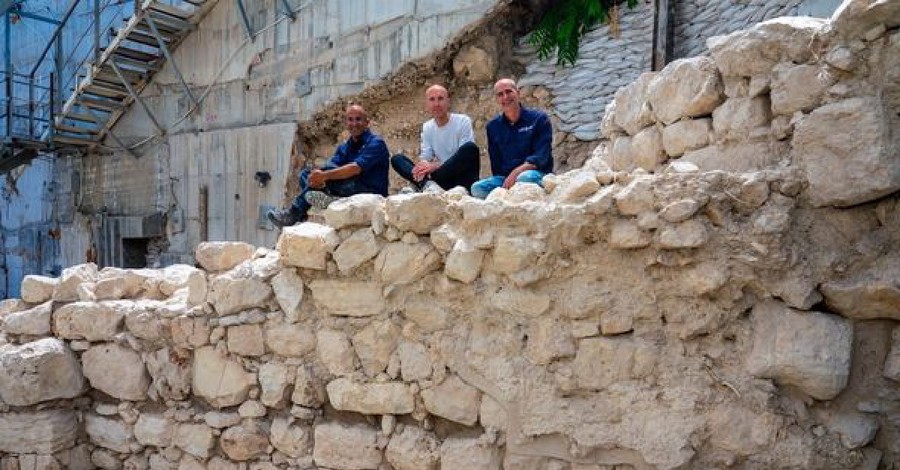 ---
A missing section of Jerusalem's city wall, built during the First Temple Era to protect the city from outside attacks, has been discovered during excavations in the City of David National Park.
As reported by Israel National News, the excavations were conducted on behalf of the Israel Antiquities Authority, in partnership with the City of David Foundation, as a part of a development project at the National Park.
"The city wall protected Jerusalem from a number of attacks during the reign of the kings of Judah, until the arrival of the Babylonians who managed to break through it and conquer the city. The remains of the ruins can be seen in the archaeological excavations," said excavation directors Dr. Filip Vukosavović of the Ancient Jerusalem Research Center and Dr. Joe Uziel and Ortal Chalaf of the Israel Antiquities Authority.
"However, not everything was destroyed, and parts of the walls, which stood and protected the city for decades and more, remain standing to this day," they added.
The recent discovery of the section of the ancient wall connects to two other sections that were uncovered in the eastern slope during the 1960s and 1970s, respectively. Following years of debate, the new excavation verifies that the remains were undeniably part of the eastern wall of ancient Jerusalem.
In 2 Kings 25:10, there is an account of the Babylonian conquest of Jerusalem where the Babylonian army breached the city's walls.
"The whole Babylonian army under the commander of the imperial guard broke down the walls around Jerusalem," the scripture reads.
The Babylonians, however, were not able to destroy the eastern wall.
Additional findings from the destruction, including rows of storage jars that were smashed when the building burned and collapsed, were seen in the building next to the wall during previous excavations.
A stone Babylonian stamp seal and a bulla, or a clay impression of a stamp seal, bearing a Judaean personal name, "Tsafan," were also found near the wall.
The Israel Antiquities Authority will be presenting its findings from the excavation this October at the "New Studies in the Archaeology of Jerusalem and its Region" conference.
Photo courtesy: ©Israel Antiquities Authority Facebook
---
Milton Quintanilla is a freelance writer. He is also the co-hosts of the For Your Soul podcast, which seeks to equip the church with biblical truth and sound doctrine. Visit his blog Blessed Are The Forgiven.