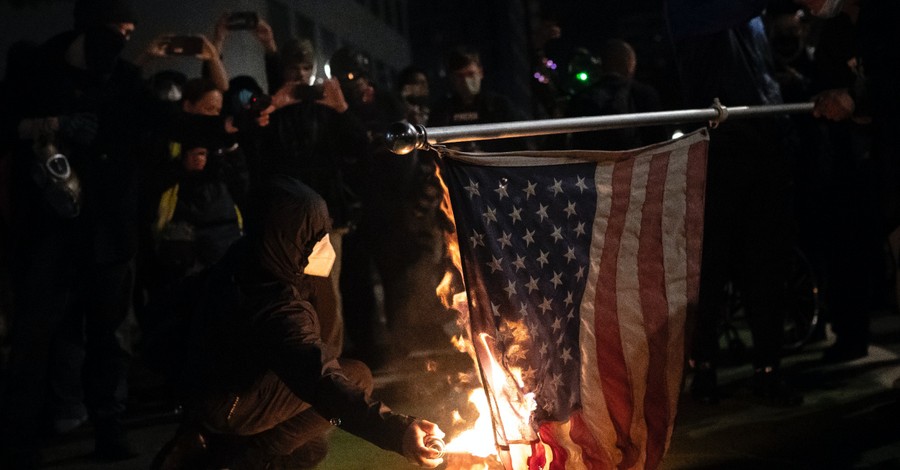 St. Andre Bassette Church, a Catholic Church in downtown Portland known for its services to the homeless, suspended its services after enduring a violent attack last Wednesday by a large mob of Antifa members.
Editor-at-large of The Post Millennial, Andy Ngo, posted a surveillance video on Twitter of the attack.
"Surveillance video showing antifa's attack on St. Andre Bessette Church in downtown Portland this week," Ngo wrote. "The church provides services to the city's large homeless population. It has since halted those services due to damage to the building."
"Notice how the press with cameras just walk right on by and ignore what's happening," he wrote in a subsequent tweet.
Notice how the press with cameras just walk right on by and ignore what's happening.

— Andy Ngô (@MrAndyNgo) November 7, 2020
The footage shows rioters smashing three front windows of the church. Another video, as reported by KOIN News, shows a homeless man who was sleeping outside of the church, flee from the scene as the church is being attacked. The rioters are then caught on tape stealing the homeless man's blanket along with other possessions that were lying nearby.
"The act of one person has prevented us from providing for hundreds of people."

Surveillance video shows crowd marching on W Burnside last night. About 15 sec in someone comes up & smashes the windows @ Saint Andre Bessette Church.
How to help: https://t.co/ePnlYXsSou@KOINNews pic.twitter.com/B3qok2BDG6

— Jacquelyn Abad (@JacquelynAbadTV) November 5, 2020
"Surveillance video shows a crowd of protesters, all wearing black, march past Saint Andre Bessette Church on West Burnside Street when one person rushes up to a door and repeatedly hits the glass with what appears to be a hammer," the outlet explained. "A homeless person sleeping on the doorstep hurries away as the glass shatters."
According to The Christian Post, Father Tom Gaughan explained that the attack has led his church to suspend its homeless ministry initiatives which include serving meals and providing shelter to the homeless.
"The building is compromised because of this, Gaughan said. "The actions of this one individual has forced us to cease our outreach and its hundreds of people we normally give food to, we are not able to because I don't feel like my staff is safe."
"We ask for everyone's prayers for peace in our streets which is so long overdue, and pray for our sisters and brothers who call the streets and shelters home. Because the act of one person has prevented us from providing for hundreds of people over the course of a week," he continued.
In a statement on Thursday, Oregon Governor Kate Brown denounced the vandalism and violence on the church.
"They shattered the windows of a church that feeds Oregonians in need, a women-owned and operated business that raises money for immigrant and women's rights, and many other storefronts. Indiscriminate destruction solves nothing."
About a dozen people were arrested by Portland police who confiscated multiple weapons, including firearms.
Following the death of George Floyd back in May, the city of Portland has faced continued riots in its streets.
Photo courtesy: ©Getty Images/Nathan Howard/Stringer
---
Milton Quintanilla is a freelance writer and content creator. He is a contributing writer for Christian Headlines and the host of the For Your Soul Podcast, a podcast devoted to sound doctrine and biblical truth. He holds a Masters of Divinity from Alliance Theological Seminary.
---
---