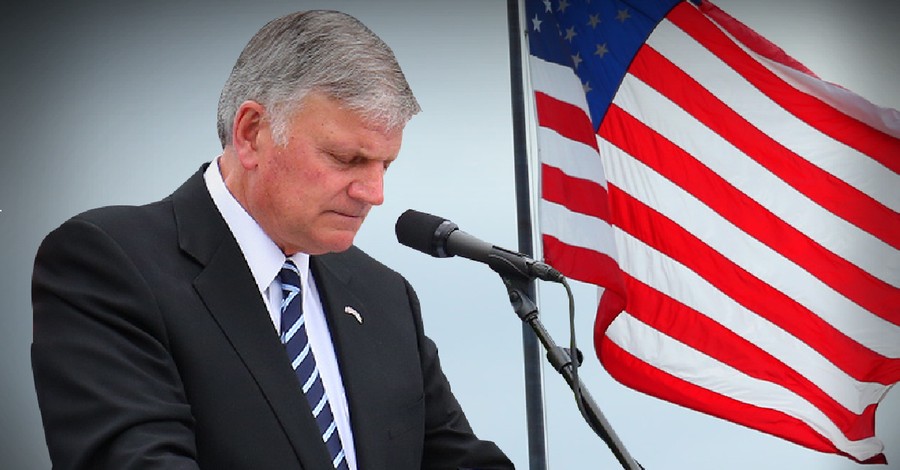 In an interview with The Christian Post last Thursday, Evangelist Franklin Graham, President and CEO of humanitarian aid organization Samaritan's Purse, discussed his upcoming prayer march, the current political atmosphere and national unrest.
"I think there's kind of a boiling point here with many people. We have seen injustice on our streets and some of our communities. The frustration that people aren't heard, that people are marginalized. It seems that all of this is boiling at the same time," Graham said.
The evangelist added that politicians often exploit the current events, especially ahead of the upcoming presidential election. Nevertheless, Graham stressed that neither party can resolve the issues at hand.
"Republicans cannot fix it; Democrats cannot fix it. Only God can," he asserted.
As God continues to be omitted from government, schools and society, Graham stated that it is a sign that the U.S. is "crumbling."
"I don't see our nation able to go much further unless we repent and call upon the name of Almighty God," he said.
Regarding the state of many churches today, Graham also noted that it is difficult to determine whether or not the church will see another Great Awakening.
"For many in the church today, they're comfortable and a lot of our pastors don't want to rock the boat," Graham stated.
The evangelist also discussed his upcoming prayer march, which will take place this Saturday at the National Mall in Washington D.C.
Thousands of people from across the nation are expected to attend.
"I don't have entertainment; I don't have music. We are coming to pray, to pray for our country, our leaders. And by starting at one end of the Mall and going to the other it's an opportunity for us to walk together and to show unity," Graham explained.
He likened the prayer march to the freedom marches of the 1960s civil rights movement as an opportunity for churches to stand as one.
"By coming [to the march] we are participating in something that is bigger than us, and we are going directly to the throne of grace, calling upon the name of God, asking for His favor, His help, and I hope that these Christian voices, these prayers will shake the city" Franklin argued. "And not just shake the city but shake the country. And it can happen."
Nevertheless, Graham stressed that God's judgment on the nation is inevitable.
"I just sense there is something moving in our country. I don't believe that our country is going to be spared from God's judgment. We are not a Christian nation. We are a secular nation and the secularists are wanting to strip God out of everything," he noted.
"Maybe this election could possibly slow that down," Graham continued, "but we know there's going to be a one-world system one day. We know that people aren't going to be able to buy, sell, or trade unless they have the mark of the Antichrist. We know that there will be a great war."
Graham believes that some of these things on God's time clock are "beginning to unfold."
"To say that we're not going to be able to reset God's clock, in the sense where He's going to change His mind, no it's written. But He might delay just a little bit."
"I've got 12 grandchildren and four children. And I know that the America that I grew up in they'll not have an opportunity or chance to see unless God intervenes," he concluded.
Related:
Franklin Graham Invites Christians to Attend Prayer March in Washington D.C.

Photo courtesy: ©Billy Graham Evangelical Association
---
Milton Quintanilla is a freelance writer and content creator. He is a contributing writer for Christian Headlines and the host of the For Your Soul Podcast, a podcast devoted to sound doctrine and biblical truth. He holds a Masters of Divinity from Alliance Theological Seminary.
---
---