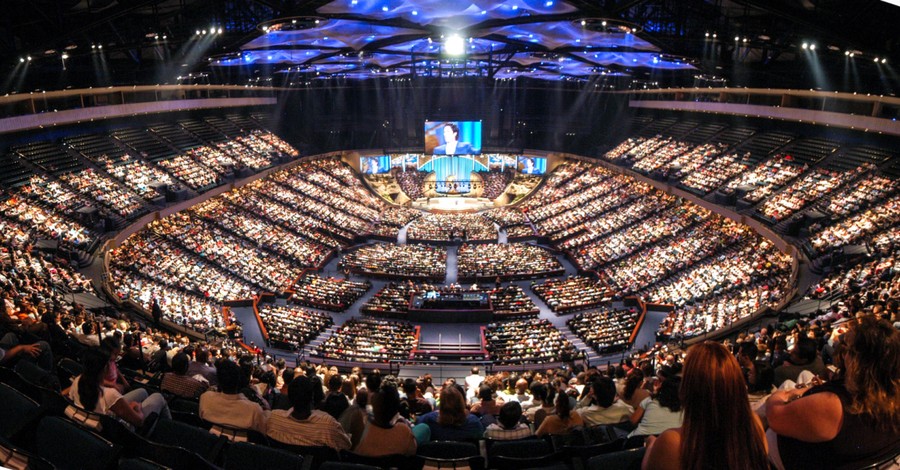 Abortion activists briefly interrupted a worship service at Joel Osteen's Lakewood Church in Houston, Texas, on Sunday morning.
As reported by CBN News, the incident took place right when Osteen was about to deliver his message on Sunday.
In a clip posted to social media, three women with the advocacy group Texas Rise Up 4 Abortion Rights are seen standing up and stripping down to their underwear while chanting pro-abortion slogans.
"It's my body! My f*****g choice!" one woman declared while wearing a white bra with green handprints on it and white underwear with a green bandana tucked into them. According to CBN News, the green bandana is a symbol of abortion rights that originated in Latin America.
The other two protestors chanted, "Overturn Roe, h**l no!"
According to the video of the incident, which was recorded on a cellphone by someone situated directly behind where the protestors were seated, the women were promptly escorted out of the building by church security.
According to KHOU-TV, the women later joined about a dozen protestors demonstrating outside of Lakewood Church.
The incident comes after a draft opinion indicating that the U.S. Supreme Court would likely overturn Roe v. Wade was leaked. Roe is the 1973 decision that legalized abortion.
"Laws against abortion will stop them from happening," one protestor said. "Wielding the Bible as a weapon to control women's free choice is not the way to welcome believers in Christ."
"In fact, a direct result of losing Roe will be women joining the Satanic Temple as a safety net in order to protect their rights and a Christian-led defense against something which they simply do not believe."
According to the activist group's website, demonstrators are being encouraged to protest the overturning of Roe v. Wade.
"The Supreme Court's cruel plan to repeal Roe v. Wade and wipe out the right to abortion is a major attack which must be DEFEATED NOW—this June—before it is hammered into law," the group states.
"This could be done if people in our millions make clear, through massive nonviolent resistance, that we will bring the gears of society to a grinding halt before we allow the Supreme Court to overturn Roe v. Wade."
Photo courtesy: ©Getty Images/Julian J. Rossig
---
Milton Quintanilla is a freelance writer and content creator. He is a contributing writer for Christian Headlines and the host of the For Your Soul Podcast, a podcast devoted to sound doctrine and biblical truth. He holds a Masters of Divinity from Alliance Theological Seminary.
---
---