Mikaela Mathews
| ChristianHeadlines.com Contributor
| Monday, November 25, 2019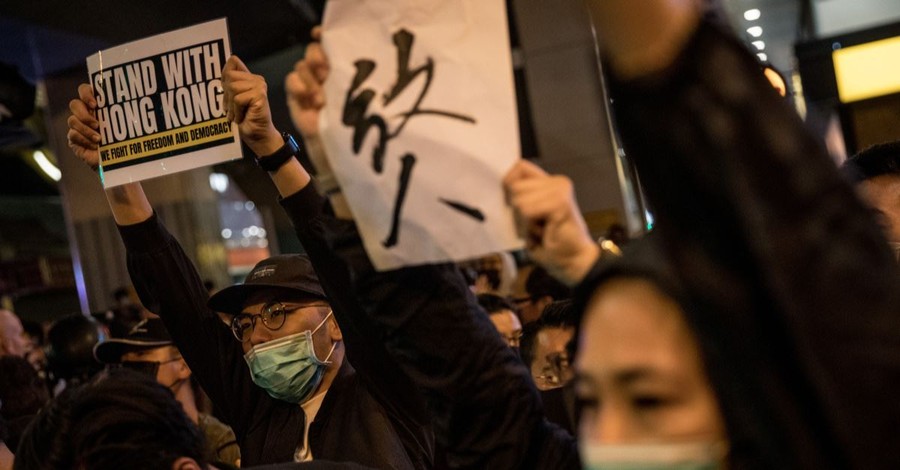 ---
Christian protestors fighting for democracy in Hong Kong are feeling the pressure of persecution. According to Faithwire, over 40 Christian leaders from churches, seminaries, and faith-based organizations have received threatening messages from anonymous sources.
Dr. John Chan of the Alliance Bible Seminary received one message that told him to stop expressing his opinion or "all the members of your family will die; your limbs will be chopped off."
Senders of the messages also have a frightening amount of personal information on each of the leaders. "For instance, when Flow Church live-streamed a service recently, the sender watched it," said Chan. "If a certain preacher would be speaking this week, he also knows…He even knows who has a younger sister and where she works at."
International Christian Concern has reported that these leaders have decided to make their story public but not file a police report since the public has lost trust in the Hong Kong police.
Over the weekend, protests continued to rage across the country while an all-time record high of voters—4.1 million people, which is more than half of the population—turned up for district council elections. Pro-democracy candidates won in sweeping measure, but China has remained stalwart in its resolve to govern the region.
"No matter how the situation in Hong Kong changes, it is very clear that Hong Kong is a part of Chinese territory," said Chinese foreign minister Wang Yi. "Any attempts to disrupt Hong Kong or undermine its stability and prosperity will not succeed."
China, according to The Guardian, maintains that foreign powers are attempting to undermine Chinese authority with the protests.
"The most urgent task for Hong Kong at present is to stop violence, control chaos and restore order," said ministry spokesman Geng Shuang. "The Chinese government is unswervingly determined to safeguard national sovereignty and to oppose any interference in Hong Kong affairs by external forces."
Meanwhile, Hong Kong's chief executive Carrie Lam, who believed that a "silent majority" wanted to remain with China, agreed to "listen humbly" to the public in light of the results.
Even in the midst of the chaos, however, a Hong Kong catholic diocese leader, Bishop Joseph Ha, was videoed praying with a 16-year-old protestor over the weekend. The teenager had been occupying Hong Kong's Polytechnic University in protest for five days.
Photo courtesy: Getty Images/Chris McGrath/Staff