Mikaela Mathews
| ChristianHeadlines.com Contributor
| Friday, November 6, 2020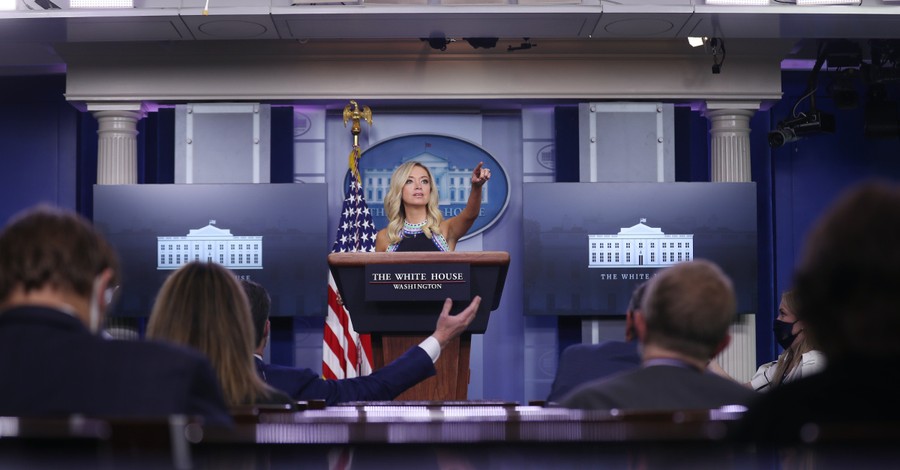 As the election results continue to trickle in, White House Press Secretary Kayleigh McEnany encouraged the nation to trust God.
McEnany pinned this tweet to the top of her feed: "GOD IS IN CONTROL!!"
GOD IS IN CONTROL‼️ 🙏🏻

— Kayleigh McEnany (@kayleighmcenany) November 4, 2020
The post received nearly 200,000 likes and over 50,000 comments, though not all of the comments were positive.
Andrew Kimmel, a media producer, tweeted a picture of the preamble to the Constitution and said, "No. We the people are in control," according to Faithwire.
Another user posted, "God didn't vote." And another, "Trump told him he couldn't vote by mail, so he sat this one out."
Political commentator Rochelle Ritchie told McEnany, "Girl, bye. God wants nothing to do with doers of iniquity. That's in the word!"
According to the White House, Twitter locked her account in mid-October after she posted a negative story about Joe Biden. It was restored shortly thereafter with the post removed.
Vice President Mike Pence's daughter, Charlotte Bond, also called on Americans to "remember that God has a plan for us. Regardless of the results of the elections, we respect the person who God has placed in authority."
McEnany, dubbed by some as "Trump's election cheerleader," believes the President still maintains a solid shot at a second term.
"That's why we are doing the recounts in Wisconsin, why we're looking at Michigan as well having the poll observers," McEnany said to Fox News. "We're looking, but we believe the paths run through Arizona, Pennsylvania, keeping Georgia, which we're already in the lead there."
On Tuesday night, she chided news outlets for not handing her home state of Florida to Trump earlier on her personal Twitter feed. She has also retweeted several posts from Republican leaders, including Kevin McCarthy and Ivanka Trump.
"Far from over," McCarthy tweeted. "Republicans will not back down from this battle."
And, "Every legally cast vote should be counted," said Ivanka Trump. "Every illegally cast vote should not. This should not be controversial. This is not a partisan statement—free and fair elections are the foundation of our democracy."
As of the time of this writing, Joe Biden is leading in Pennsylvania, Georgia, Arizona and Nevada. In order to win, Trump will need to win at least three of those states.
Related:
Continuing Coverage: 2020 Presidential Election Results
Photo courtesy: ©Getty Images/Chip Somodevilla/Staff
---
Mikaela Mathews is a freelance writer and editor based in Dallas, TX. She was the editor of a local magazine and a contributing writer for the Galveston Daily News and Spirit Magazine.
---
---