Mikaela Mathews
| ChristianHeadlines.com Contributor
| Friday, January 15, 2021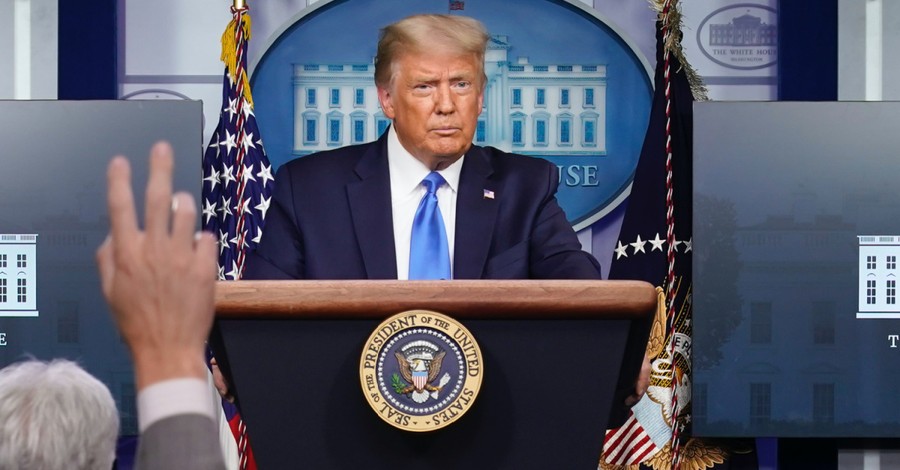 ---
Earlier this week, President Donald Trump issued a speech urging Americans to resist violence in the aftermath of the U.S. Capitol breach, as reported by The Christian Post.
The five-minute video, posted on the White House Twitter account because the President has been permanently banned from the platform, condemned the violence and vowed to bring justice to the perpetrators.
"Making America great again has always been about defending the rule of law, supporting the men and women of law enforcement and upholding our nation's most sacred traditions and values," he said. "Mob violence goes against everything I believe in and everything our movement stands for. No true supporter of mine could ever endorse political violence. No true supporter of mine could ever disrespect law enforcement or our great American flag. No true supporter of mine could ever threaten or harass their fellow Americans.
"If you do anything of these things, you are not supporting our movement, you are attacking it and you are attacking our country. We cannot tolerate it."
The President promised to bring justice to the rioters who vandalized the Capitol in the deadly riot that killed six and encouraged his supporters to "be thinking of ways to ease tensions, calm tempers and help to promote peace in our country."
He also addressed reports of future planned protests and exhorted Americans to not resort to violence, lawbreaking or vandalism. "We will get through this challenge just like we always do," he said.
In his final remarks, the President called out the "unprecedented assault on free speech we have seen in recent days."
"The efforts to censor, cancel and blacklist our fellow citizens are wrong and they are dangerous," he said. "What is needed now is for us to listen to one another, not to silence one another. All of us can choose, by our actions, to rise above the rancor and find common ground and shared purpose."
January 13, 2021
Recently, an editor of Forbes cautioned his colleagues in the industry from hiring any of Trump's former press secretaries, calling it a "truth reckoning," as previously reported by Christian Headlines.
The President has also been blocked from Twitter permanently and Facebook until after president-elect Joe Biden's inauguration.
Trump concluded his speech with a call for unity: "Let us choose to move forward united for the good of our families, our communities and our country."
His remarks came in the midst of an ongoing impeachment trial against the President initiated by Democratic House Speaker Nancy Pelosi and supported by ten Republican lawmakers, including Senator Mitch McConnell.
"One week ago, on Jan. 6, there was an act of insurrection perpetrated on the Capitol of the United States, incentivized by the President of the United States," said Pelosi. "One week later, Wednesday to Wednesday, that President was peached in a bipartisan way by the House of Representatives. So urgent was the matter."
Related:
President Trump Suspended from Facebook, Temporarily Locked Out of Twitter following Capitol Riot
YouTube Suspends President Trump's Account amid 'Ongoing Concerns about Violence'
Following Twitter Ban, President Trump Says He May Create His Own Social Networking Platform
Photo courtesy: ©Getty Images/Joshua Roberts/Stringer
---
Mikaela Mathews is a freelance writer and editor based in Dallas, TX. She was the editor of a local magazine and a contributing writer for the Galveston Daily News and Spirit Magazine.