Mikaela Mathews
| ChristianHeadlines.com Contributor
| Monday, February 3, 2020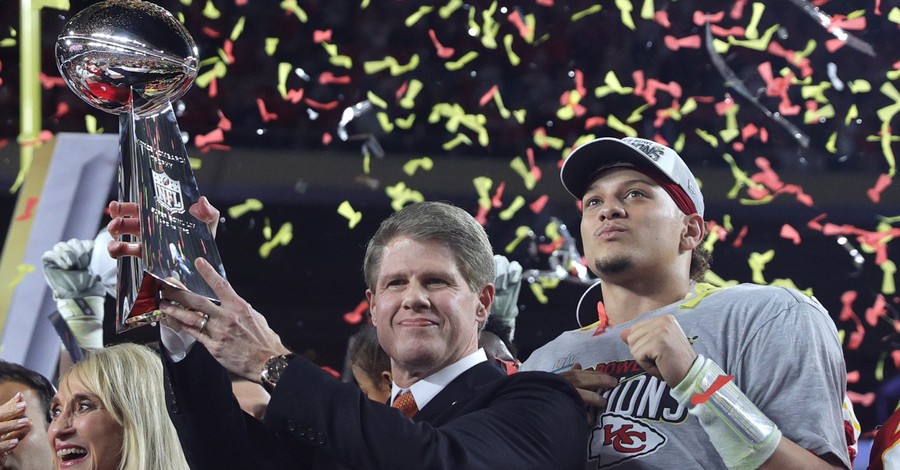 For the first time in 50 years, the Kansas City Chiefs can call themselves Super Bowl champions.
In a back-and-forth battle for the trophy on Sunday night, the Chiefs and 49ers gave a spectacular show. But throughout the season, players and administrators from the Chiefs have shown that their faith is what truly matters, CBN News reports.
"I want to thank the Lord for blessing us with all these incredible people to bring this trophy home," said Chiefs Chairman and CEO Clark Hunt.
Hunt has been vocal about his faith and wants his players and employees to find theirs, too.
"We want our employees to develop spiritually," he said, according to Fox News. "In the National Football League, Christ is really glorified. My identity is my faith in Christ."
One of the stand-out stars of the night was Chiefs Quarterback Patrick Mahomes who was named MVP of the Super Bowl, making him the youngest quarterback to both win the MVP and the Super Bowl. His faith has inspired him.
"Doing what I do every single day, and then knowing that as long as I'm doing everything the right way, the way that He'd want me to do it, then I can walk off the field with my head held high and be able to to be the man that I'm supposed to be," the 24-year-old said. "It's given me a lot of blessing in my life and I'm trying to maximize and glorify Him in everything I do."
Chiefs' Guard Stefen Wisniewski didn't expect to be cheering with his teammates at a Super Bowl win. Last summer, he'd been dropped by the Philadelphia Eagles before the Chiefs picked him up.
"The best place you can be in life is the center of God's will," he said. "And the center of God's will for my life was unemployed for five weeks. And it was a challenge and He was with me and I leaned on Him during that time and I trusted Him, praised Him. I knew that if He wanted to, He could exalt me again and it was just my job to humble myself before Him, and here I am about to start in the Super Bowl. That's all because of God."
Photo courtesy: ©Getty Images/Tom Pennington/Staff
---
Mikaela Mathews is a freelance writer and editor based in Dallas, TX. She was the editor of a local magazine and a contributing writer for the Galveston Daily News and Spirit Magazine.
---
---