Mikaela Mathews
| ChristianHeadlines.com Contributor
| Tuesday, August 4, 2020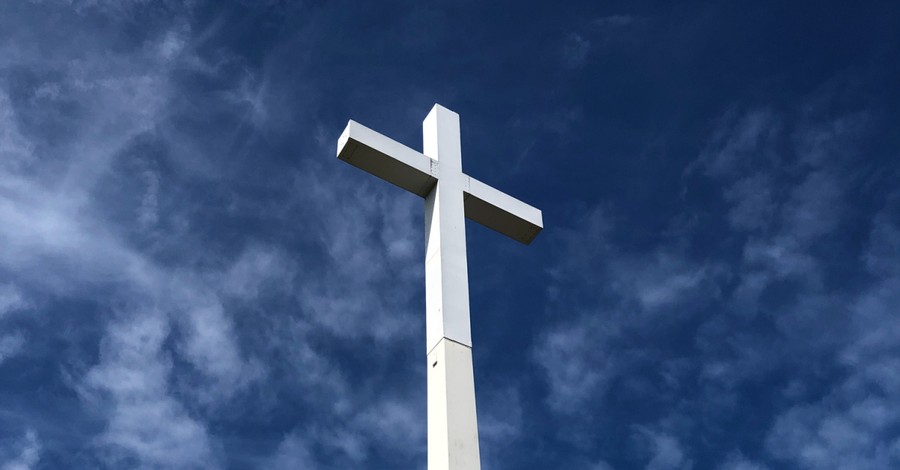 Students and pastors in Eugene, Oregon, took a stand against protestors on Friday who allegedly wanted to deface and tear down a cross that has been on the small private Christian college's campus for decades.
A Facebook post entitled, "War on Racism Removal of ALL racist monuments Eugene/Springfield" sparked the protest, according to The Register-Guard. Radical Antifa activists claim that the cross on New Hope Christian College's campus is a racist symbol because of its previous location on Skinner Butte where Ku Klux Klan members burned crosses in the 1920s.
"We will be using this event site to declare a War on Racism. This will be to identify ALL racist monuments, where they are located, how they were established, and their purpose," the Facebook post said. "I peacefully request support in asking the New Hope Bible College…to review the history, then remove and replace the cross."
Several emails and Facebook alerts, however, warned local "Patriots" groups that Antifa planned to tear down the cross, causing several men to stand guard at the entrance of the college armed with weapons on Friday.
Despite Antifa's claims, New Hope members believe the cross is a symbol of hope.
"The history of the cross and how it came to reside on our campus has been well documented over the years, and there is no evidence to suggest our cross has direct roots to racism other than it once resided on Skinner Butte, the same location where racist events were held in the 1920s. People referring to our cross as the 'KKK' cross is false," the college said in a Facebook post.
The cross specifically on the college's campus wasn't built until 1964, the college argued, and therefore was not around during the Klu Klux Klan's tenure in the 20s.
Several members of the surrounding community joined New Hope in support. Tim Raven with Global Connectors told CBN News, "There is a strong core of people standing for what is right. This is kingdom business and the church has to be awakened. We are standing for the cross."
Even nonbelievers joined in the stand, according to Raven.
"People were really responding, standing up, and doing something. This is really impacting the nation, it's a line in the sand," he said.
New Hope President Wayne Cordiero said he is "tired of this" and refuses to give into the radical demands.
"If they say we are racist, it's like, 'You're blind. Go somewhere else because you are not making any sense,'" Cordiero said. "If we say Eugene is a place where we accept diversity, then that's exactly it. We are a place of diversity and accept one another and we want to be at peace."
Photo courtesy: Peter Hulce/Unsplash
---
Mikaela Mathews is a freelance writer and editor based in Dallas, TX. She was the editor of a local magazine and a contributing writer for the Galveston Daily News and Spirit Magazine.
---
---