Mikaela Mathews
| ChristianHeadlines.com Contributor
| Published: Jun 11, 2020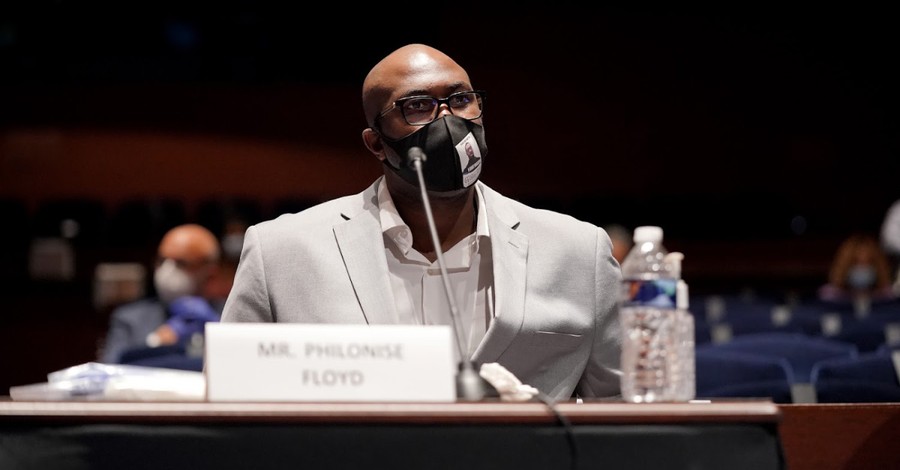 George Floyd's brother, Philonise, testified before Congress on Wednesday to petition lawmakers to make sweeping changes to prevent police brutality.
"I'm here today to ask you to make it stop. Stop the pain," he said, according to AP News. He hoped that his brother is "more than another face on a T-shirt, more than another name on a list that won't stop growing."
Congress gathered to review the Democrats' proposed bill on police reform. The Republicans, led by Sen. Tim Scott (R-SC), are working to create their own bill.
"I think the best way for the Senate Republicans to go forward on this is to listen to one of our own, who's had these experiences—he's had them since he's been in the United States Senate," said Mitch McConnell, as reported by CBN News.
Scott will be meeting with President Trump to discuss his bill, which would require states receiving federal funding to report officer-related shootings.
The Democrats' bill hopes to ban chokeholds, as well as racially and religious profiling. It would also allow the federal government easier ability to prosecute misconduct police cases and create a database of police misconduct.
In his testimony, Philonise urged Congress that reform is long overdue.
"George wasn't hurting anyone that day," he said. "He didn't deserve to die over $20. I am asking you, is that what a black man is worth? $20? This is 2020. Enough is enough. The people marching in the streets are telling you enough is enough."
In addition, Angela Underwood Jacobs, sister to a police officer killed in California as a result of violent protests, testified before Congress with an actionable plan for reform instead of defunding the police.
"When innocent people are harmed in the name of justice, no one prevails. We all lose," she said. "This is greater than a black, white, or blue issue—it is a humanity issue."
"I wholeheartedly urge us all, all Americans not to give in to hate and anger, but to resolve hatred with kindness and love. To lead with a sense of purpose and renewed energy. To create positive change as I have outlined here through education, jobs, housing, and listening," she said.
In Cleveland, OH, where police presence and budgets have been cut, the city has suffered.
"The murder rates have climbed. The property crimes are at record levels. Aggravated robbery statics are higher. Drug sales, drug use, drug abuse is higher. Drug and alcohol-related motor vehicle accidents are the highest they've ever been," according to Pastor Darrell Scott of Cleveland's New Spirit Revival Center.
In the wake of protests, police officers are also voicing their concerns.
"I am not Derek Chauvin. They are not him. He killed someone. We didn't," said Mike O'Meara, president of the New York Police Benevolent Association. "We are restrained, and you know what, I'm saying this to all the cops here because you know what? Everybody's trying to shame us. The legislators, the press, everybody's trying to shame us into being embarrassed about our profession … Stop treating us like animals and thugs, and start treating us with some respect."
Photo courtesy: ©Getty Images/Pool
---
Mikaela Mathews is a freelance writer and editor based in Dallas, TX. She was the editor of a local magazine and a contributing writer for the Galveston Daily News and Spirit Magazine.
---
---