Mikaela Mathews
| ChristianHeadlines.com Contributor
| Thursday, August 8, 2019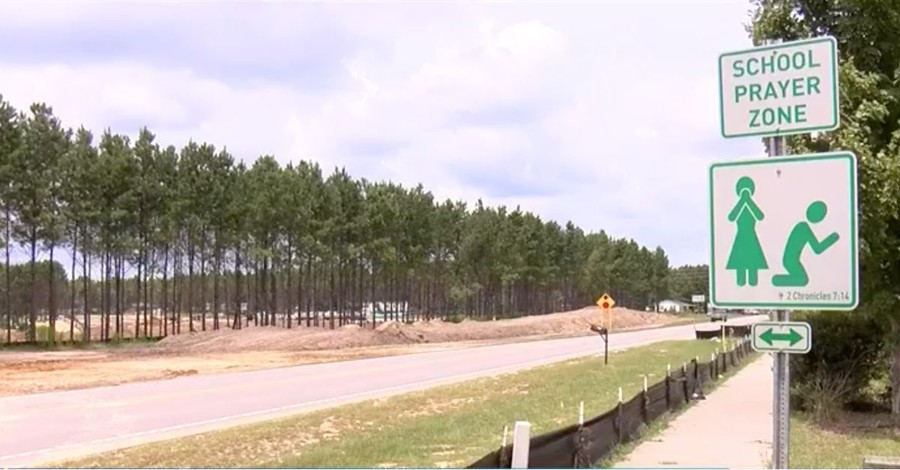 As students and parents prepare for a new school year in Richland County, South Carolina, they'll be greeted by a sign different than usual: one inviting them to pray.
The "School Prayer Zone" signs look similar to regular road signs but feature green male and female stick figures praying. 2 Chronicles 7:14, a verse that tells God's people to pray, repent and seek Him, is also included in the bottom right corner, according to CBN News.
Vanessa Frazier, founder and director of Christ Teens, brainstormed the idea after working behind the attendance desk in a local high school. Christ Teens is a nonprofit outreach intended to "train 'soldiers' to possess the land around public schools — all within the law!"
Frazier worked with the South Carolina Department of Transportation for three years and hopes the signs will "create a wall of prayer around the schools."
The signs are placed on privately owned properties of churches near schools in order to maintain church and state boundaries, making the signs legal.
Jane Jorgenson, wife of the pastor at St. Mark's Lutheran Church, was immediately interested in the idea of putting up a sign on their property. "God brings peace to hearts and lives if we ask," she said. "If high school kids see this sign as they go to school, if they could get into the habit of praying for their problems, it could help them get through the day. God is all-powerful. Why not bring Him into the situation?"
Jorgenson said the community response has been positive.
And the word is spreading. People in Florida and California have reached out to Frazier, expressing interest in placing the signs near their schools.
Frazier sees herself as a servant to public schools and believes that prayer is what can help these kids. "We want this next generation coming out of our public schools every 365 days to be productive citizens with wisdom, understanding, knowledge, skills, and ability. You know, everything you would want from a graduation class," she said. 
Photo courtesy: WIS News Screenshot
---
---