Mikaela Mathews
| ChristianHeadlines.com Contributor
| Thursday, September 26, 2019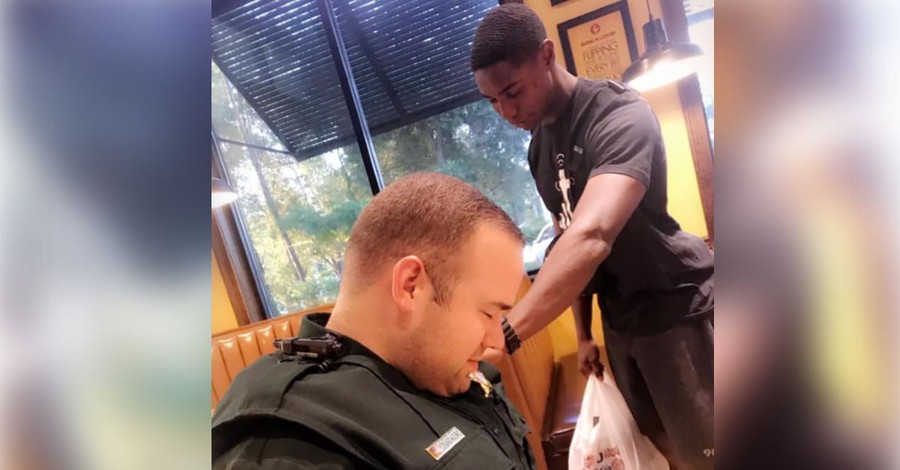 A photo of a young man praying over a Florida deputy is lighting up screens across the country.
The photo, posted to Facebook by the deputy's wife, features the man putting his hand on the deputy's shoulder while both of their heads are bowed, according to WRIC.
The deputy's wife, Justine Tucker, said that while eating dinner at Zaxby's, the young man named Juan approached the table and asked to pray for the deputy's safety.
At the time of this writing, the post has been liked by more than 48,000 people and shared more than 24,000 times with over 4,000 comments.
"Tonight was a night that I will never forget. This picture is a reminder of God's constant love and perfect timing," Justine wrote. 
"Tonight we had an amazing encounter with an incredible young man named Juan. He came up to Cameron and asked if he could pray over him and his protection. After crying my eyes out we got to have an amazing conversation with this gentleman," she continued.
Justine later noted that Juan was "on FIRE for God and you could feel His presence in the room." She added, "[Juan] said that he had felt compelled to talk to us and to pray over Cameron."
Commenters praised the young man and the deputy.
"God bless your husband, family and this young man and his family! Thank you for serving your community!" one person commented.
"Let's pray that many youth like this young man's heart burn for Jesus Christ and not be occupied with lies from media but be on their knees in prayer for our nation. God is good and could use anyone if we let him in! Less of us more of Jesus!" another person wrote.
"Thank you, young man, and all of you who pray for anyone but, especially our first responders!" said one woman. "My husband has been in law enforcement for almost 25 years and in our world we know the only true protecting we have is the POWER OF PRAYER." 
Photo courtesy: Justine Tucker Facebook Page
---
---