Mikaela Mathews
| ChristianHeadlines.com Contributor
| Tuesday, January 14, 2020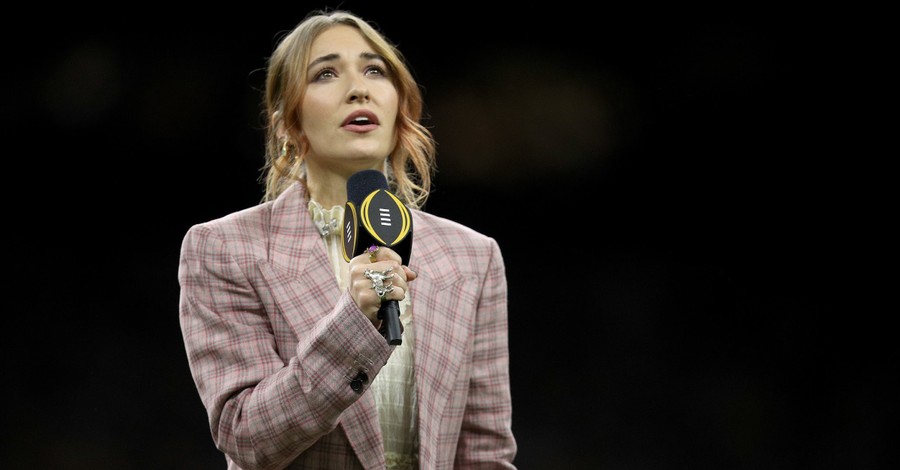 ---
Two-time Grammy-award winning singer Lauren Daigle captivated the 2020 National Championship audience last night with her national anthem performance.
While LSU and Clemson warmed-up before the biggest college football game of the year, the Louisiana native belted out the anthem to rousing applause both in and out of the stadium. Attendees rose to their feet while Twitter lit up in response.
"THE Lauren Daigle!! Ladies and gentlemen!!!" Fixer Upper star, Chip Gaines tweeted.
THE @Lauren_Daigle!! Ladies and gentlemen!!! #NationalChampionship

— Chip Gaines (@chipgaines) January 14, 2020
Also in attendance at the championship game was President Trump and First Lady Melania who also received an eruption of applause when they entered the sold-out stadium.
Daigle has recently made the rounds to a few prisons to bring a message of hope and encouragement.
"In the middle of the pain, in the middle of your problems, in the middle of you being the worst of who you are, He comes and He sits next to you in the process," she said to inmates in the largest maximum-security facility in Louisiana. She was also able to donate $17,000 to go towards clothing and phone calls for the inmates.
Throughout the football season, several Clemson key players have caught the attention of reporters and fans for their faith. As previously reported by Christian Headlines, Trevor Lawrence, the team's starting quarterback, has been outspoken in his relationship with God.
"Football is important to me, obviously, but it's not my life," he said. "It is not like the biggest thing in my life. My faith is. That just comes from kind of knowing who I am outside of that. I just know, no matter how big the situation is, it is not really going to define me."
In a separate interview, the college freshman showed maturity beyond his years, despite the wins and national attention.
"I put my identity in what Christ says, who He thinks I am and who I know the He says I am," he said. "Like I said, it really does not matter what people think of me or how good they think I play. That does not really matter. That has been a big thing for me, in my situation, just knowing that and having confidence in that."
Ultimately, the LSU Tigers trampled over the Clemson Tigers 42-25 to win the national title.
Photo courtesy: ©Getty Images/Chris Graythen/Staff
---
Mikaela Mathews is a freelance writer and editor based in Dallas, TX. She was the editor of a local magazine and a contributing writer for the Galveston Daily News and Spirit Magazine.