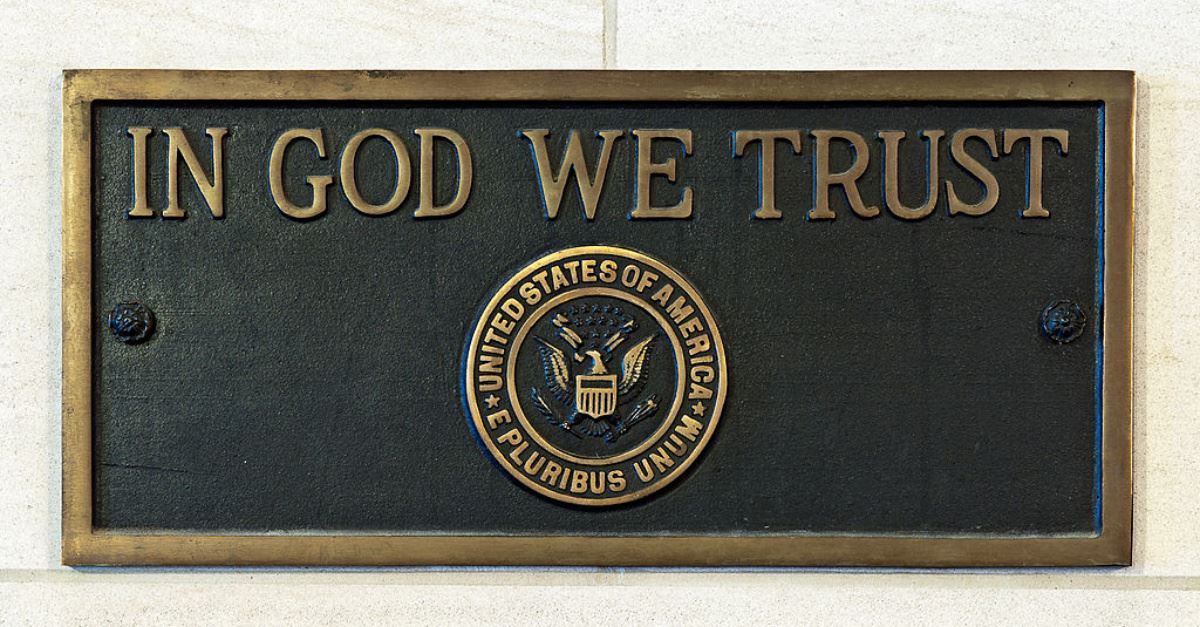 ---
According to a new law passed in Kentucky, prominent banners displaying "In God We Trust" will be hung in schools across the state, according to Local 12 News.
"Local boards shall require each public elementary and secondary school to display the national motto of the United States, 'In God We Trust,' in a prominent location in the school," the law, which passed in February, reads.
Kentucky is one of several states, including Louisiana, Arkansas, Tennessee, Florida, Alabama, Arizona, and South Dakota, who now require the words displayed, according to Forbes Magazine.
The spike in legislation regarding the phrase likely came from a document called, "Report and Analysis on Religious Freedom Measures Impacting Prayer and Faith in America." The report, put together by pro-religious groups, encourages lawmakers that "states can and must play a crucial role in protecting religious freedom."
Because "In God We Trust" is on money and license plates, some lawmakers, according to the Washington Post, have argued that the required signage is about reaffirming history.
Some have stuck to the religious argument. "Let's keep hope alive," South Dakotan Republican state Sen. Phil Jensen said. "This is our legislature, our history, a nation that trusts God."
But several opponents of the law in Kentucky believe the phrase could isolate children. "They may feel excluded or could be bullied at school," said Kentucky ACLU's Amber Duke. "So our overall theme in schools is that religion be left to parents and churches and public school should focus on education."
In a letter to lawmakers, the ACLU implored authorities to stop the bill. "We ask you to refrain from mandating any religious observation or exercise of religion in our public schools," it read. "We firmly believe that our legislature should be working to ensure that schools are adequately funded, that teachers are appropriately compensated, and that our students receive the highest quality education possible."
Penny Christian, who is the president of the 16th District PTA, believes that the law blurs the lines between church and state. However, she does not plan to fight the new measure because there were more important issues to tackle.
"We have to choose our fights," she said to kentucky.com.
The ACLU of Kentucky also does not plan to fight the law. 
Related:
'In God We Trust' to Be Displayed in All South Dakota Public Schools
'In God We Trust' Will Be on All New Mississippi License Plates
Atheist Group Threatens Suit over Mississippi 'In God We Trust' License Plates
Appeals Court Upholds 'In God We Trust' on Currency, Rejects Atheist Suit
Photo courtesy: Public Domain/US Capitol
---
Mikaela Mathews is a freelance writer and editor based in Dallas, TX. She was the editor of a local magazine and a contributing writer for the Galveston Daily News and Spirit Magazine.