Mikaela Mathews
| ChristianHeadlines.com Contributor
| Wednesday, November 6, 2019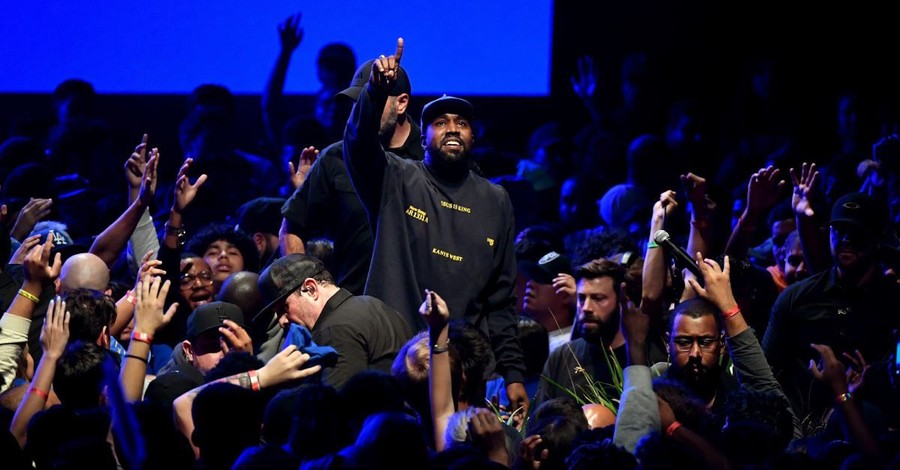 ---
Kanye West's latest gospel-infused Jesus is King album has topped the Billboard 200 chart and the Top Christian Albums chart.
According to CBN News, the fashion mogul turned evangelist launched the album on Oct. 25, becoming his ninth consecutive album to debut at the No. 1 spot on Billboard 200. He's tied with Eminem for the most records to hit the top of the charts.
For the first time, West also hit the No. 1 spots on the Top Christian Albums and Top Gospel Album charts as well.
"West is the latest artist to cross to No. 1 on the faith-based tallies after establishing stardom at other genres," according to Billboard. "Among others, the King of Rock & Roll, Elvis Presley, and country icons Alan Jackson and Reba McEntire all boast Top Christian Albums No. 1s since the start of 2017."
The album's success prompted a massive increase in faith-based Google searches, according to Faithwire. People searched for "Jesus" and "What do Christians believe?" shortly after the album was released.
The American Bible Society saw the opportunity to reach out to those seeking with free copies of the Bible. 
"When we see an influential cultural figure like Kanye inspire young people to curiously seek out answers to their faith questions," John Plake, director of ministry intelligence for ABS said, "we see an opportunity to step in and do what we do best as an organization, and that's provide and point people to God's Word."
ABS' goal is to distribute 1,000 copies of the Good News Translation for free, as reported by Fox News.
"Kanye's album just points to cultural curiosity and we're happy to stand in the gap and say if you're curious about the Bible, we want to provide one to you," Plake also said.
The rapper's newfound conversion has not only sparked curiosity but in one of his recent "Sunday Services", it's also brought 1,000 people to Christ.
Curvine Brewington, a musician and pastor from Louisiana, recently attended one of the services and posted his experience:
"Tonight, worship was lifted, the name of Christ was exalted, the Word of God was preached, a multitude prayed together, the Gospel was clearly proclaimed, and an opportunity to respond was given. In a crowd of 6,000 people from all walks of life, all ages, and all races, I witnessed over 1,000 people respond to the Gospel by raising their hands to accept Jesus as their Lord & Savior! Say what you want, & think what you want…But trust me when I tell you—the Spirit of the Living God was indeed present. I danced, wept, stood in awe of God's redemptive work, & can honestly say that tonight I witnessed a new wave of REVIVAL firsthand." 
Photo courtesy: Getty Images/Kevin Winter/Staff