Mikaela Mathews
| ChristianHeadlines.com Contributor
| Monday, October 28, 2019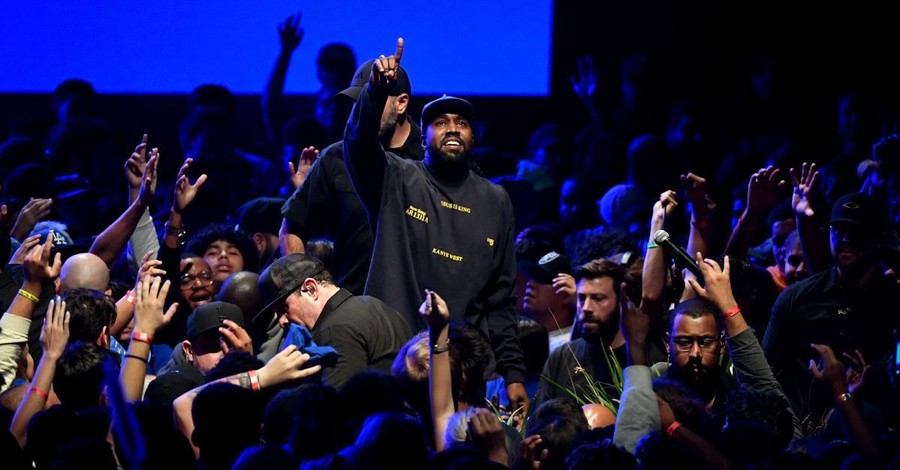 After a several-months long delay, rapper and singer Kanye West launched his Jesus is King album on Friday.
The release features 11 songs loaded with Scripture and praises to Christ, as reported by Faithwire.
"To my fans. Thank you for being loyal & patient. We are specifically fixing mixes on 'Everything We Need' 'Follow God' & 'Water.' We not going to sleep until this album is out," West wrote on Twitter Friday morning. The album was released that afternoon.
Several artists commented on the beauty of the album's lyrics.
"Regardless of how you feel about #KanyeWest the content is refreshing to hear. God will get His glory. And #JesusIsKing," said Christian rapper Lecrae in a tweet.
Artist Marco McKinnis also tweeted, "God is really working through Ye. If you don't recognize that, it's time to catch up."
West doesn't skate around Scripture in his lyrics. In the song "Selah," the rapper sings: "They say the week start on Monday / But the strong start on Sunday / Won't be in bondage to any man / John 8:33 / We the descendants of Abraham / Ye should be made free / John 8:36 / To whom the Song set free is free indeed / He saved a wretch like me."
West also pays homage to popular Christian fast-food restaurant, Chick-fil-A. In his song "Closed on Sunday" West sings: "Closed on Sunday / You my Chick-fil-A / You're my number one / With the Lemonade / Raise our sons / Train them in the faith / Trough temptations / Make sure they're wide awake."  
The album came after months of West's Sunday Service tours where he and a gospel choir traveled the country hosting free worship services. West would sometimes preach at the services, warning people against the dangers of social media and encouraging them to look to God.
California pastor Adam Tyson was also allowed to share the gospel at many of the services to packed crowds. Tyson also affirmed changes in West as he's discipled him for several months.
"The fruit that I'm seeing is he's no longer continuing in some of the sin patterns that he was before he came to Christ," Tyson said. "Right now, every day, he is living and walking with God, so from what I can tell, there's no reason for me not to encounter that and be a part of that."
The rapper also announced his exit from secular music, claiming he will only make gospel music from here on out.
"Now that I'm in service to Christ, my job is to spread the gospel, to let people know what Jesus has done for me," West said in an interview with Beats 1 Zane Lowe. "… It's my only mission and calling, is to spread the gospel."
Photo courtesy: Getty Images/Kevin Winter/Staff
---
---