Mikaela Mathews
| ChristianHeadlines.com Contributor
| Thursday, January 30, 2020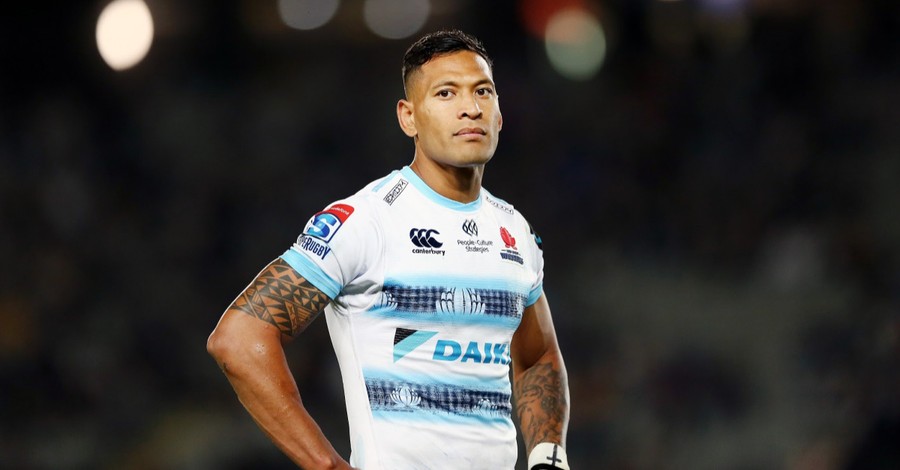 Controversial Christian rugby player Israel Folau has signed onto a new team that's promised to terminate him should he vocalize his Christian beliefs on homosexuality.
The Catalan Dragons, a France-based team that plays in England, approached Folau shortly after he was fired from his Australia team in May for making comments on his Instagram saying that "all drunks, homosexuals, adulterers, liars, fornicators, thieves, atheists, idolators" will go to Hell.
Critics expressed their dismay at the news. Keegan Hirst, the only openly gay player in the league, discussed his outrage with BBC Radio 5 Live, according to The Guardian.
"Rugby league champions itself on being tolerant, inclusive, and diverse and people work really hard promoting those values and this signing and the lack of being able to stop it by the [Rugby Football League] and Super League is a slap in the face to all those people's hard work. Anyone who has a moral compass or values, this is alienating and undermining those people…I will never watch him," he said.
Other teams used the opportunity to make a statement. Wigan Warriors announced only an hour after the signing that they would hold their Pride Day fixture the same day they play against Folau's team, according to The Sunday Times.
But the Catalan Dragons believe the outrage will calm down in time.
"When the moods of each other [side] have subsided, we will judge that this player is perhaps the best coup in the history of this sport and of [the club] in France," said Dragons chairman Bernard Gausch. "We will then savor the exemplary player he is. I know he will delight the Catalan public. We do not share or tolerate his opinions and we are totally committed to making our club and our sport open and welcoming to everyone."
Folau has completely agreed with the terms of his new contract.
"I'm a proud Christian, my beliefs are personal, my intention is not to hurt anyone and I will not be making further public comment about them," he said, according to The Christian Post. "I look forward to my return to the great game of Rugby League with the Catalans Dragons."
In May of last year, Folau stirred controversy, alleging that his team fired him over his comments. After months in court, he was rewarded financially but not allowed to return to his team.
In November, he also sparked outrage again when he posted a connection between Australia's lethal fires and the country's laws on abortion and same-sex marriage.
"Look how rapid these brushfires, these droughts, all these things have come in a short period of time, do you think it's a coincidence or not?" he posted.
Australian Prime Minister Scott Morrison, an evangelical Christian against same-sex marriage, called the comments "appallingly insensitive."
Related:
Rugby League to Fire $1M Star Player over Bible Verse Post on Homosexuality
Former Rugby Player Files Religious Discrimination Suit after Being Fired over Expressing His Christian Views
Christian Group Gives $100K for Legal Fees to Ruby Star Fired for Traditional View on Marriage
Rugby Player Found Guilty of 'High Level' Breach of Contract for Posting Bible Verse on Instagram
Australia Considers New Religious Freedom Bill following Firing of Christian Rugby Player
Photo courtesy: ©Getty Images/Anthony Au Yeung/Stringer
---
Mikaela Mathews is a freelance writer and editor based in Dallas, TX. She was the editor of a local magazine and a contributing writer for the Galveston Daily News and Spirit Magazine.
---
---