Mikaela Mathews
| ChristianHeadlines.com Contributor
| Monday, June 17, 2019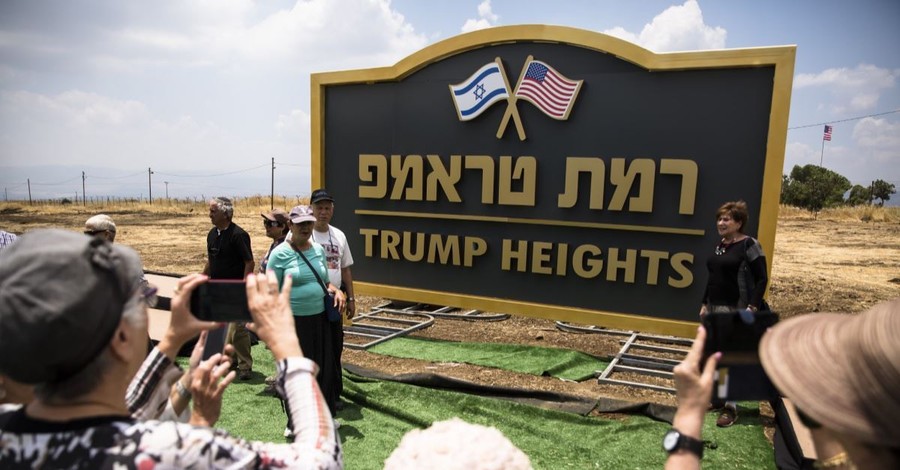 Over the weekend, Israel's Prime Minister Benjamin Netanyahu announced a new settlement in Golan Heights named after President Donald Trump, unveiling a large sign that featured both the Israeli and American flags.
"We are proud that we have the opportunity to establish a new settlement and to give thanks to a great friend," Netanyahu said, according to CNN, during a celebratory cabinet meeting at the new site. "We will continue to grow and develop the Golan for all of our citizens — Jews and non-Jews together."
The settlement was named after Trump, who defied international opinion in supporting Israel's sovereignty in the Golan Heights. No building plans have yet been made, but the settlement will be built near Kela in the northern Golan Heights.
The Golan Heights is a piece of land seized by Israel from Syria during the Six-Day War in 1967. The UN Security Council has claimed that Israel's authority in that territory is "null and void and without legal effect." No other country in the world, besides the U.S., has acknowledged Israel's authority in the region.
"This is a historic day," Netanyahu said, calling Trump a "friend of Israel," according to the BBC.
US Ambassador to Israel David Friedman was in the audience at the unveiling.
"I want to thank you for holding the cabinet meeting and for the extraordinary gesture that you and the State of Israel are making to the President of the United States," Friedman said to Netanyahu. "It's well-deserved, but it's much appreciated."
Critics of the new settlement, however, believe the settlement is political posturing.
"Whoever reads the fine print in this 'historic' decision understand that it is a phantom decision,' Zvi Hauser, a former cabinet secretary who believes Israel should have sovereignty in the Golan, tweeted. "There is no budget, there is no planning, there is no place, and there is really no binding decision."
Photo courtesy: Getty Images/Amir Levy/Stringer
---
---