Mikaela Mathews
| ChristianHeadlines.com Contributor
| Updated: Jun 24, 2020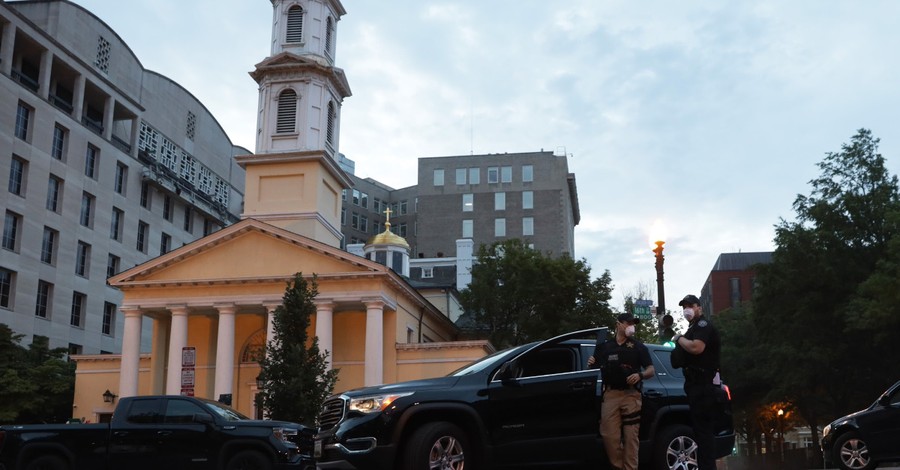 Earlier this week, historic St. John's Episcopal Church in Washington, D.C., was vandalized when protestors spray-painted "BHAZ" on the church's 204-year-old columns, according to the Episcopal News Service.
"BHAZ" stands for "Black House Autonomous Zone," modeled after the Seattle-based movement called "Capitol Hill Autonomous Zone" (CHAZ).
"There will never be an 'Autonomous Zone' in Washington, D.C., as long as I'm your President. If they try they will be met with serious force!" Trump tweeted.
The church has become a center point of controversy between the President and protestors. Only a few weeks prior, the church's nursery basement was burned by rioters. Cabinet officials and the President, holding a Bible, walked from the White House to the church the next day to show strength, though some saw the move inappropriate.
On Monday, rioters also attempted to pull down a statue of Andrew Jackson in Lafayette Park, according to the Washington Post. Hundreds of protestors linked arms around the statue, chanting "Hey, hey, ho, ho, Andrew Jackson's got to go." Over 150 police officers and a low-flying helicopter stopped the crowd from toppling the statue.
"Numerous people arrested in D.C. for the disgraceful vandalism, in Lafayette Park, of the magnificent Statue of Andrew Jackson, in addition to the exterior defacing of St. John's Church across the street. 10 years in prison under the Veteran's Memorial Preservation Act. Beware!" Trump tweeted.
Meanwhile, in Seattle, Mayor Jenny Durkan will shut down CHAZ in the evenings.
"It's time for people to go home, it is time for us to restore Cal Anderson and Capitol Hill so it can be a vibrant part of the community," Durkan said, according to the Christian Post.
The mayor, who once supported the protest, believes surrounding businesses and residents have suffered too much. Inside the zone, two people have been seriously injured and a 19-year-old boy, Horace Lorenzo Anderson, was shot and killed. Others have reported rapes and robberies.
The protestors are occupying an abandoned Seattle Police Department East Precinct building, which has since been renamed as "Seattle People Department," as reported by the Seattle Times. Durkan hopes to diffuse the protest with suggested hours of 8 a.m. to 8 p.m., as well as offer resources for homeless people in the area.
Last week, Seattle City Council banned police from using tear gas, a move that Police Chief Carmen Best believes caused the death of Anderson.
"A life might have been saved if not for the circumstances created by hasty legislation," Best said. "Right now what officers have is their riot batons and their handguns and that is not sufficient."
Though council member Lisa Herbold believes tear gas would have been unnecessary in the situation.
Residents of the Capitol Hill district in Seattle are concerned that the protest is distracting.
"The message of Black Lives Matter is being exploited," said one woman who feared retaliation and refused to give her name to the Seattle Times. "It's not a street fair. It's disheartening. There's a lack of integrity."
Photo courtesy: ©Getty Images/Alex Wong/Staff
---
Mikaela Mathews is a freelance writer and editor based in Dallas, TX. She was the editor of a local magazine and a contributing writer for the Galveston Daily News and Spirit Magazine.
---
---