Mikaela Mathews
| ChristianHeadlines.com Contributor
| Wednesday, December 2, 2020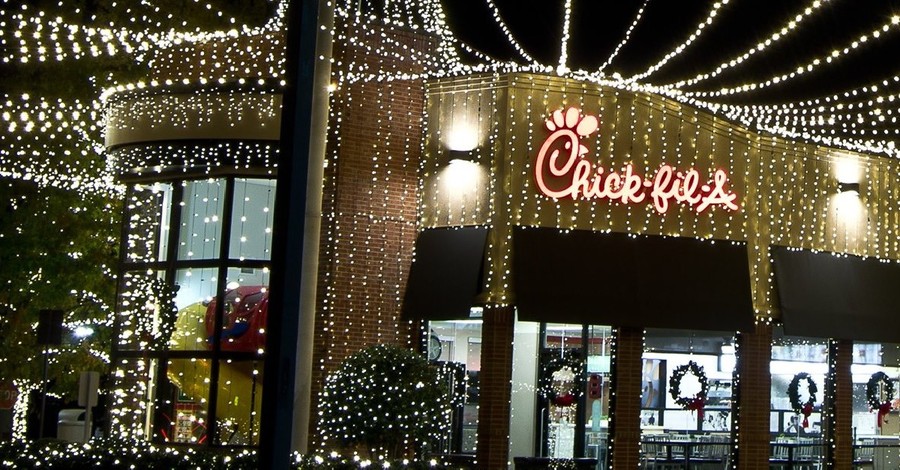 A Chick-fil-A in Athens, Georgia, is kicking off the Christmas season with nearly half a million Christmas lights, called the "Lights of Athens," according to Faithwire.
The fast-food restaurant started the tradition of stringing lights down all four sides of its building and stretched overhead through the parking lot in 2016. Since then, people from around the community have gathered outside every November 2 to watch the lights turn on. WSET Channel 13 reported that the Store Operator, Alex Clark, hoped the extravagant lights would create family traditions and special memories.
For 2020, in order to practice safe social distancing, Chick-fil-A created family circles on an open lawn in front of the restaurant so families could enjoy the annual lighting tradition.
"When I see the Lights of Athens, I have a warm, happy feeling of love and hope. They are wonderful and they are beautiful. The lights mean happy and sweet memories of my son," said Athens resident, Sheila Wright.
"The past few years, my son, Travis Lamar Wright, brought me out here to see the lights," she shared. "He was an outstanding, wonderful young man. Travis was killed in February 2018 in a wreck on Highway 316. The Lights of Athens give me a very warm feeling of him. It was our family tradition to see the lights every Christmas. Every time I see them, I have a smile on my face, a happy memory in my heart, but a tear in my eye."
Customers who pass through the drive-thru of the restaurant can also tune into a Christmas playlist created by Chick-fil-A.
This year, the Lights of Athens will also raise money for Operation Underground Railroad, a nonprofit rescue group for sexually trafficked and exploited children. Businesses who donate a minimum of $100 will hear their ad on the Christmas playlist for an evening.
Photo courtesy: Chick-fil-A Athens Facebook
---
Mikaela Mathews is a freelance writer and editor based in Dallas, TX. She was the editor of a local magazine and a contributing writer for the Galveston Daily News and Spirit Magazine.
---
---