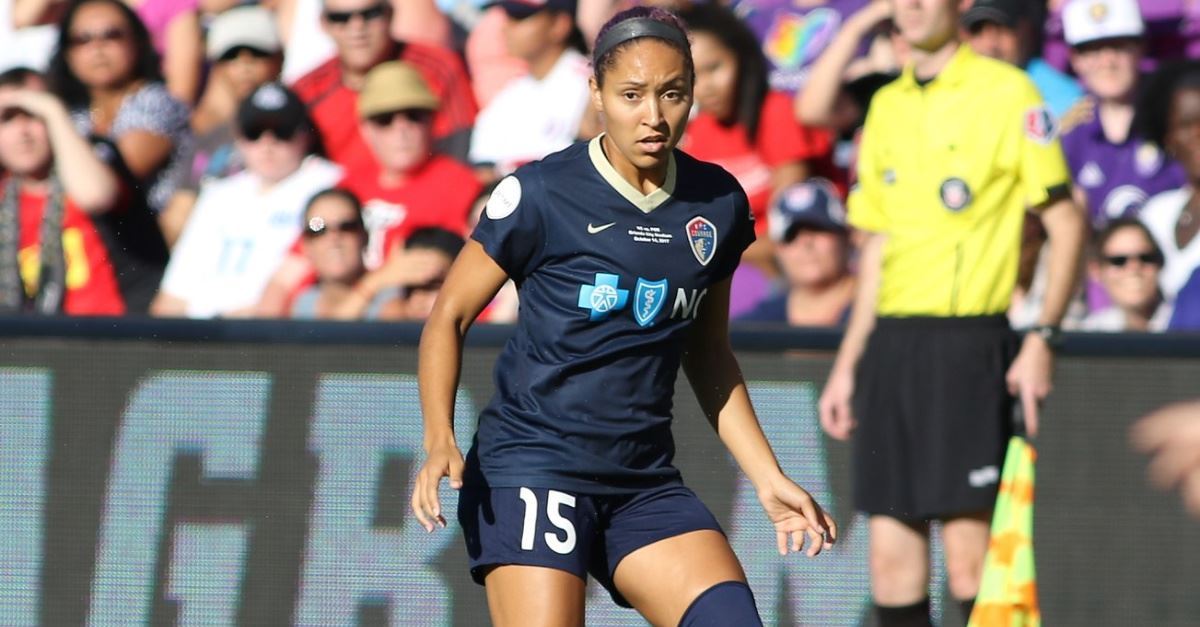 ---
In 2017, US Soccer announced that the team would wear special jerseys with rainbow numbers in support of LGBTQ Pride month. As a Christian, Jaelene Hinkle gave herself three days to pray and decide if she, too, would wear the jersey as the team traveled through Europe. 
"I just felt so convinced in my spirit that it wasn't my job to wear this jersey," she told the 700 Club, according to the Irish Times, after her decision to pull out of the traveling squad. "I knew in my spirit I was doing the right thing. I knew I was being obedient. If I never get another national team call-up again then that's just a part of His plan, and that's okay. Maybe this is why I was meant to play soccer, to show other believers to be obedient." 
Many believe that this decision, and the subsequent reactions, forced the left back off the national field. While playing for her home team, North Carolina Courage, she experienced boo's from the audience who were waving pride flags.
A year after the jerseys, when Hinkle was called up for the national team, she was let go three days into training for "footballing reasons." Many believe that the vague reason was a cover should a discrimination lawsuit against the league surface.
Jill Ellis, who is also gay and coaches a U.S. Soccer women's team of other gay players including star Megan Rapione, has faced some questions over her choice of cutting the 26-year-old player.
"She [Hinkle] is the best left back in the league this year, of that there's absolutely no question," club manager and head coach of the North Carolina Courage, Paul Riley said to SB Nation. "She hasn't had a bad game to be honest with you, I can't recall a bad game all season. At this level, that's unbelievable. The consistency is something she never really had, but this year she's had it." 
A U.S. Soccer spokesperson told SB Nation that "the decision to cut Hinkle was purely a soccer decision, adding that all roster decisions are entirely about performance and that there had been no personal issues between anyone during training sessions." But the sports news outlet hesitates to buy this explanation, especially in light of Hinkle's stats. In the past year, she has beat out two other soccer players, who did make the US national team, in interceptions per 90 minutes, successful tackle percentages, crossing accuracy, successful dribbles per 90 minutes, and final third passes per 90 minutes.
The women's team certainly has a platform to promote the LGBT community. With a large fan base who identifies as gay, fans had a strong reaction to the possibility of Hinkle playing.
"She [Hinkle] has never once acknowledged the humanity and struggle of LGBT people, and instead used a platform which actively demonizes the LGBT community," one fan said to SB Nation. "I'm most concerned with the message it sends to young queer fans and players within the US youth system. They shouldn't for one second feel any discomfort about who they are or question if they deserve the same respect."
Despite the pressure, the soccer player has remained strong. Hinkle pinned a tweet from 2016 to the top of her Twitter profile sharing a quote from Christian rapper Lecrae: "If you live for people's acceptance, you'll die from their rejection."
"If you live for people's acceptance, you'll die from their rejection." - @lecrae

Unashamed.

— Jaelene Hinkle (@JaeHinkle_15) May 4, 2016
Photo courtesy: Wikimedia Commons/BDZ Sports
---
Mikaela Mathews is a freelance writer and editor based in Dallas, TX. She was the editor of a local magazine and a contributing writer for the Galveston Daily News and Spirit Magazine.