Mikaela Mathews
| ChristianHeadlines.com Contributor
| Wednesday, July 31, 2019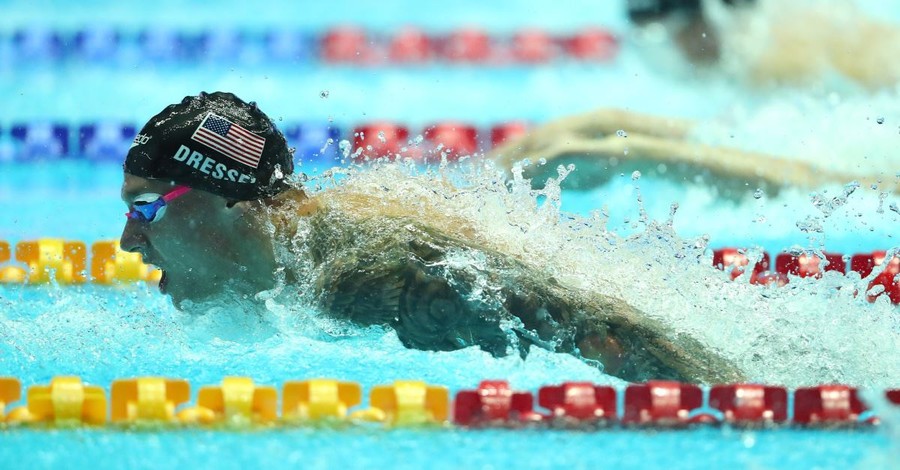 Twenty-two-year-old Caeleb Dressel broke retired Olympic champion Michael Phelps' world record in the 100-meter butterfly last week. 
The 8-time world champion gold medalist beat his competition at the world swimming championship in Gwangju, South Korea with 49.50 seconds, narrowly beating Phelps by 0.32 seconds, according to Faithwire. Phelps set the previous record at the 2009 world meet in Rome.
"Just the standard that Michael set, wanted to go after it," Dressel told USA Today after the heat. "I hope he was happy watching me do that."
Phelps shared a photo of Dressel on Instagram after the race with congratulations. "Many congrats to @caelebdressel!! So sick to watch your start, turns, under water (sic), and of course your stroke! Swimming super-fast this week! Finish strong! #usa #welldeserved"
Dressel thanked the superstar athlete. "I appreciate you and what you've done for us," he responded.
The Florida native is no stranger to strong victories. He first won an Olympic gold medal alongside Phelps in the 4x100 meter freestyle relay in Rio de Janeiro. Last year, he tied Phelps with seven gold medals in the world championships. This year, he broke all records with eight medals.
As a Christian, Dressel believes his gifts should be used for God's glory. "…[T]he reason I'm in the sport, not just to go fast times, but to inspire people and show them where I find my happiness with what God's given me," he told Evangelical Focus. "Swimming is my life, and I wouldn't want it any other way. This is what I'm supposed to be doing, and God gave me the talent and I'm going to do that for him, myself and my family and all my friends."
During competitions, Dressel often writes a Scripture passage across his face under his goggles. The reference changes, but one of his favorites is Isaiah 40:31, which says, "But those who hope in the Lord will renew their strength. They will soar on wings like eagles; they will run and not grow weary, they will walk and not be faint."
In 2016, the then-college student wrote "JCM" on his right cheek in support of a teacher who had been diagnosed with breast cancer.
"She's just one of my inspirations," he said. "She's just on top of her stuff spiritually, she's very inspirational for me. She's just — she's a fighter, you know. I look up to her and she gives me strength throughout the meet."
For a season while Dressel wasn't swimming, he wrestled in his relationship with God. Having eventually returned to Christ, he admits to learning several lessons. He said, "Coming out of that, I started swimming again and really just put all my trust in God and knowing that He's going to take care of everything for me, good or bad."
Photo courtesy: Getty Images/Maddie Meyer/Staff
---
---