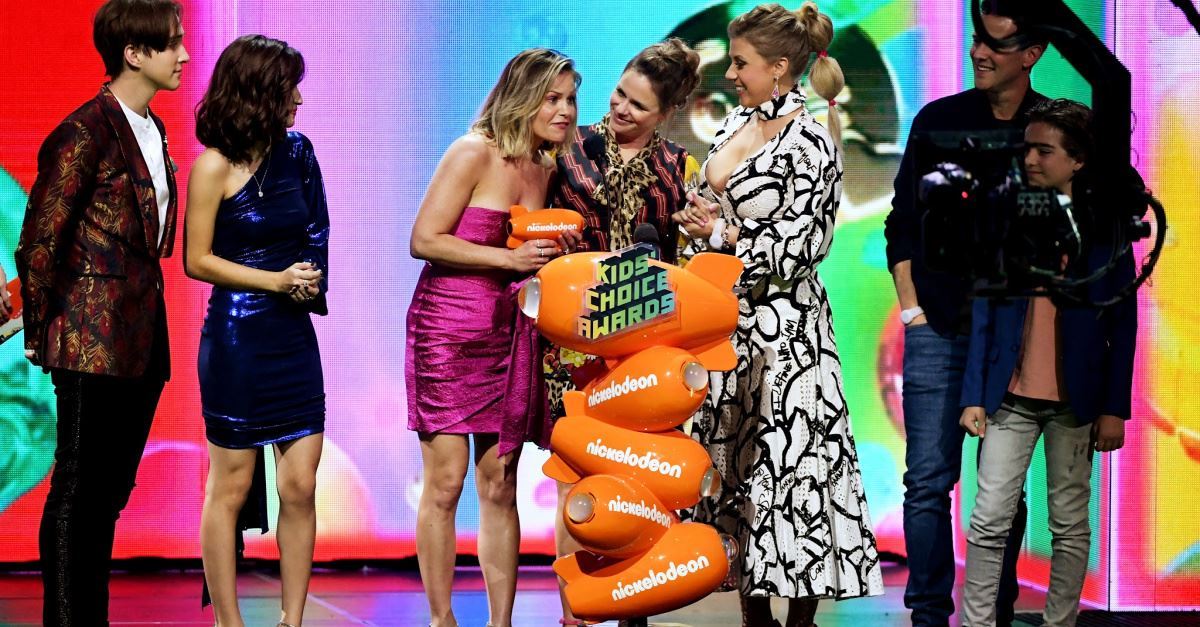 ---
Fuller House producer and star Candace Cameron Bure emphasized that a "family sticks together no matter what." 
Bure's comments comes in the wake of the college admission scandal allegedly involving Lori Loughlin, the actress who played "Aunt Becky" on both Full House and Fuller House. 
During Bure's acceptance speech for Favorite Funny TV show at the Nickelodeon Kid's Choice Awards, she said, "[A family] stick[s] together through the hard times. They support each other. They encourage one another. They pray for each other, and they stand by their side no matter how tough it gets." 
Loughlin has been accused of bribing college officials in order to gain college acceptance for her daughters, according to the Washington Post. She is one of 50 people accused, including her husband, designer Mossimo Giannulli, known for his line at Target. The couple allegedly paid college admissions recruiters $500,000 to get their daughters into USC on a crew scholarship, despite that the girls had never rowed crew. She turned herself into authorities on March 13 and was released on a $1 million bond. 
Loughlin was a regular on the Hallmark Channel, but the company has decided to let her go, as reported by the LA Times. She has pleaded not guilty to the charges. 
Fellow cast members, such as John Stamos ("Uncle Jesse"), Jodie Sweetin ("Stephanie Tanner") and Bob Sagett ("Danny Tanner") have refused to chime in.
Bure's speech has garnered lots of media attention, including articles in USA Today and Vanity Fair about how the cast members have each other's backs. 
The day Loughlin turned herself in, Bure posted an Instagram story as part of her daily Lenten series focusing on one attribute of Jesus, encouraging followers to remember, "Even though we are sinners who should be punished, God's mercy is available to us because of Jesus' sacrifice on the cross. What amazing news!"
Photo courtesy: Getty Images/Kevin Winter/Staff
Video courtesy: ©Nickelodeon
---
Mikaela Mathews is a freelance writer and editor based in Dallas, TX. She was the editor of a local magazine and a contributing writer for the Galveston Daily News and Spirit Magazine. She blogs at mikaelamathews.com.