Mikaela Mathews
| ChristianHeadlines.com Contributor
| Wednesday, June 5, 2019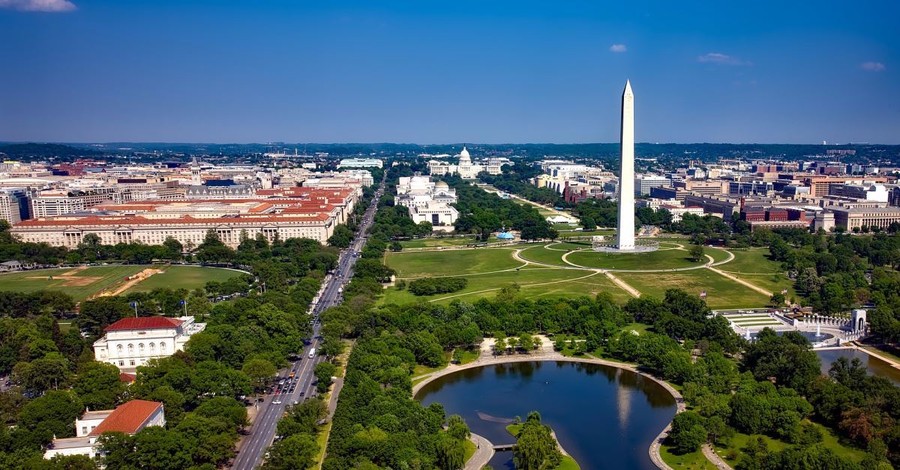 The entire Bible was on illustrated display this weekend at the National Mall. German painter Willy Wiedmann created 3,333 images depicting God's redemptive history from Genesis to Revelation. Each of the images were printed together to create a mile-long display held by more than 400 volunteers throughout the day around the Reflecting Pool at the National Mall.
"It's the world's longest Bible, arguably the world's longest illustrated book. And this is a chance for us to show it off to the District and to the nation," Ken McKenzie, Museum of the Bible CEO, told CBN News.
The work of art took 16 years for the painter to create and was kept hidden for years. Martin Widemann, Willy's son, told CBN that he found the paintings after his father's death. "It was a total surprise when I discovered it," he said. "He put it away in four big aluminum cases, which I found, after he died, in his attic, all the way in the back."
Willy's hope was to reach those who can't read or write with his paintings. "He believed that about a third of the world's population either couldn't read or couldn't learn through words. They had to learn pictorially," McKenzie said. "And that was his motivation to spend 16 years of his life to create this amazing Bible."
Unfortunately, although beautiful, the Bible had only recently been exposed. "He couldn't find a publisher to publish 3,333 paintings," he shared. "It's just the technique wasn't there, and it would have been unaffordable."
Willy employed surrealism, cubism, and abstract expressionism in his paintings. "He never wanted God to have a face or a gender," McKenzie said. "And so God is always represented as a triangle coming from the top of the page." Jesus is depicted in human form, but to McKenzie's bemusement, always with wild, blonde hair.
The painter's son and volunteers were floored at the spectacle. "To have a mile-long picture around the Reflecting Pool in the form of a Bible - this is unheard of!"
Photo courtesy: Pixabay
---
---