Michael Foust
| ChristianHeadlines.com Contributor
| Friday, August 16, 2019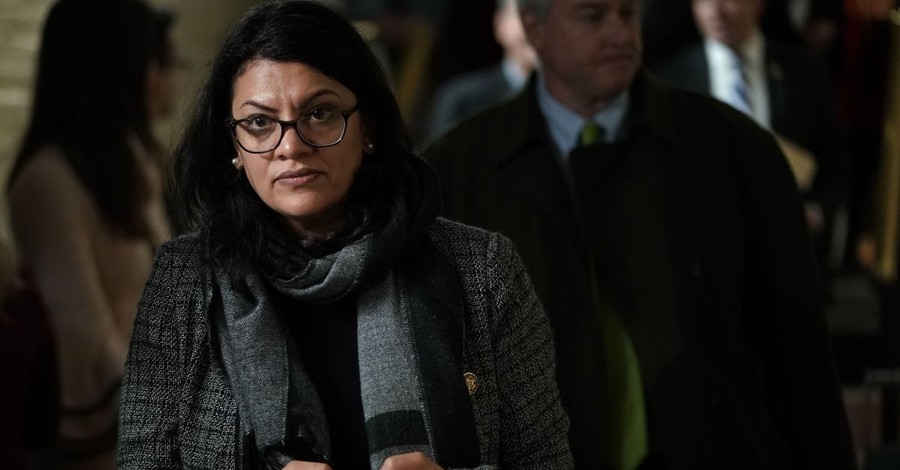 Democratic Rep. Rashida Tlaib said Friday she won't accept Israel's offer to visit her aging grandmother on humanitarian grounds, believing entering the country under such conditions would be "humiliating" and conflict with her beliefs.
A Muslim and Palestinian-American, Tlaib (Mich.) along with Rep. Ilhan Omar (Minn.) were barred Thursday from entering Israel because they support the BDS Movement to boycott, divest from and sanction the Jewish nation.
"Congressmen Talib and Omar are leading activists in promoting boycott legislation against Israel in the U.S. Congress," said Israeli Prime Minister Benjamin Netanyahu. "As a vibrant and free democracy, Israel is open to any critic and criticism, with one exception: Israel's law prohibits the entry of people who call and operate to boycott Israel, as is the case with other democracies that prevent the entry of people whose perception harms the country."
Tlaib had asked Israel to let her visit her family in the West Bank, where her grandmother, who is in her 90s, lives.
"This could be my last opportunity to see her," Tlaib wrote, according to CNN.
Israel responded that it would permit Tlaib to visit on humanitarian grounds. She declined, writing on Twitter it would be "humiliating."
"In my attempt to visit Palestine, I've experienced the same racist treatment that many Palestinian-Americans endure when encountering the Israeli government," she wrote. "... The Israeli government used my love and desire to see my grandmother to silence me and made my ability to do so contingent upon me signing a letter – reflecting just how undemocratic and afraid they are of the truth my trip would reveal about what is happening in the State of Israel and to Palestinians living under occupation with United States support."
Her press release used the words "racism" or "racist" in reference to Israel four times. 
The U.S. House passed a resolution in July by a vote of 398-17 condemning the BDS Movement. 
"The Global Boycott, Divestment and Sanctions Movement (BDS Movement) targeting Israel is a campaign that does not favor a two-state solution and that seeks to exclude the State of Israel and the Israeli people from the economic, cultural, and academic life of the rest of the world," the pro-Israel resolution said "... [T]he BDS Movement does not recognize, and many of its supporters explicitly deny, the right of the Jewish people to national self-determination."
Photo courtesy: Getty Images/Alex Wong/Staff
Related: 
House Rejects Boycott of Israel in 398-17 Vote; AOC and Omar Vote in Minority
---
---