Michael Foust
| ChristianHeadlines.com Contributor
| Monday, June 3, 2019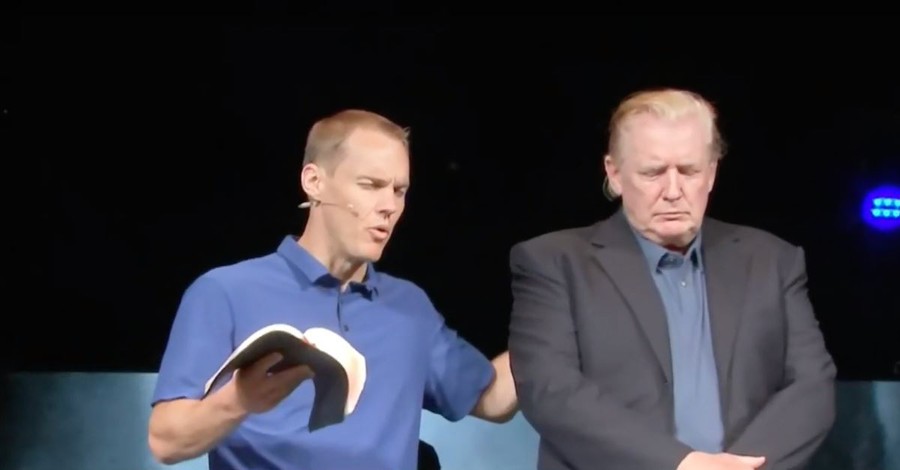 President Trump surprised members of a Virginia evangelical church Sunday when he briefly visited during an afternoon service. 
Meanwhile, the church's pastor is receiving recognition for his Christ-centric prayer for Trump. 
"This is how it should be done," Denny Burk, a professor at Boyce College and Southern Baptist Theological Seminary, wrote on Twitter. Burk pointed to 1 Timothy 2:2-4, which commands Christians to pray for "kings and all those in authority." 
Trump stopped by McLean Bible Church in Vienna, Va., to "visit with the pastor and pray for the victims and community" of the Virginia Beach shooting that left 12 dead, according to a White House pool report. 
The date, June 2, also was the date Franklin Graham had asked Christians to set aside time to pray for Trump.
Trump did not speak while on stage. 
"Many of you may have seen that there was calls to – particularly on this Sunday – pray for our president," the church's pastor, David Platt, said. "We don't want to do that just on this Sunday. We want to do that continually, day in and day out. So I want to ask us to bow our heads together now and pray for our president."
Holding a Bible in one hand and placing his other hand on Trump's back, Platt prayed.
"O God, we praise you as the one universal king over all," Platt prayed. "You are our leader and our Lord and we worship you. There is one God and one Savior – and it's You, and your name is Jesus. And we exalt you, Jesus. And know we need your mercy. We need your grace. We need your help. We need your wisdom in our country. And so we stand right now on behalf of our president, and we pray for your grace and your mercy and your wisdom upon him.
"God, we pray that he would know how much you love him – so much that you sent Jesus to die for his sins, our sins. So we pray that he would look to You. That he would trust in You, that he would lean on You. That he would govern and make decisions in ways that are good for justice, and good for righteousness, and good for equity, every good path.
"Lord we pray, we pray, that you would give him all the grace he needs to govern in ways that we just saw in 1 Timothy 2 that lead to peaceful and quiet lives, godly and dignified in every way," Platt prayed. "God we pray for your blessing in that way upon his family. We pray that you would give them strength. We pray that you would give them clarity [and] wisdom – wisdom, the fear of the Lord is the beginning of wisdom. Fools despise wisdom and instruction.
"Please, O God, give him wisdom and help him to lead our country alongside other leaders. We pray today for leaders in Congress. We pray for leaders in courts. We pray for leaders in national and state levels. Please, O God, help us to look to You, help us to trust in your Word, help us to seek your wisdom, and live in ways that reflect your love and your grace, your righteousness and your justice. We pray for your blessings on our president toward that end.
"In Jesus' name, we pray. Amen," Platt concluded.
Joe Carter of The Gospel Coalition also applauded Platt's prayer. 
"Platt presented the gospel in his prayer and asked God to give the president clarity, strength, and wisdom," Carter wrote. "Platt also prayed that the Lord would help President Trump govern for the good of equity, justice, and righteousness. Above all, Platt made it clear that our earthly leaders will benefit most when they follow 'the one universal king over all' – King Jesus.
"Platt reminded us that we pray for authorities not to protect them from criticism but so that we as Christians 'may live peaceful and quiet lives in all godliness and holiness' (1 Tim. 2:2). In doing so, he provided us with a model for how we should all pray for our president."
Related:
Franklin Graham Calls for Day of Prayer for President Trump on June 2
Michael Foust is a freelance writer. Visit his blog, MichaelFoust.com.
Photo courtesy: TicToc Bloomberg
Video courtesy: TicToc Bloomberg
---
---