Michael Foust
| ChristianHeadlines.com Contributor
| Friday, July 10, 2020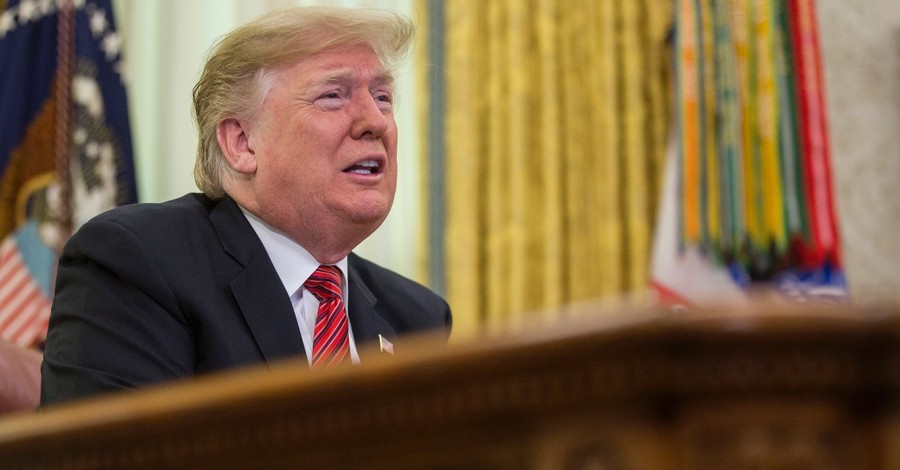 ---
President Trump says in a new interview with the Washington Post that he's not defending confederate memorials and that he supports "peaceful protests for racial injustice."
He also rejected the charge he's promoting hate: "The real hate is the hate from the other side on many of the things that we talk about."
The interview, with columnist Marc A. Thiessen, took place in the Oval Office. Thiessen posted the first part from the interview Thursday.
Trump addressed media coverage of his Mount Rushmore speech, which several mainstream media outlets characterized as "dark."
"It was the opposite of dark," Trump said. "What's dark is the other side. … They're trying to take everything down."
In the speech, Trump criticized the tearing down or removal of monuments of George Washington, Abraham Lincoln, Ulysses S. Grant and several abolitionists.
Asked if he also was defending confederate statues, Trump told The Post: "Oh, I'm not. But I am adamant about defending the past. It's part of our history. They're taking down everything. They're taking down history, they're taking down so much, Marc. They're taking down everything and they call it 'cancel culture.' I don't think it's a beautiful term, but it's actually very descriptive. ... They want to cancel everything. They want to cancel the good and the bad.
"They started off by canceling things that were controversial, and I actually said years ago. ... 'Well, does that mean that George Washington and Thomas Jefferson are next?' And it turns out that they are next. ... I was sort of half-joking, and people are now saying 'Trump was right.' These people are crazy. They've gone stone-cold crazy."
Trump said he doesn't love the Confederacy.
"I'm against it. It was my opponent. I was born in New York, I'm against it," Trump said. "... I am a Yankee. But I also believe in free speech, and I believe in history. You can't erase history. If you erase it, you're going to repeat it."
Does he support peaceful protests?
"Peaceful protests for racial justice? Absolutely. Peaceful protests, period. Absolutely. I support peaceful protests," Trump said.
But he opposes what he calls "anarchists" and "agitators."
"They didn't know what they were doing. They got caught up in the whole thing," he said.
Trump seemed to draw a distinction between the Black Live Matter organization and peaceful protesters.
"You take a look at the people running it, they're Marxists, they're people that you don't want," he said, referencing the Black Lives Matters organization. "And yet, they become almost like this wonderful group of people. And you look at what happened with the riots, and you look at all of the things that have happened, I think it's a very, very divisive group."
Trump added: "It takes guts to say what I say."
"I mean, I understand, I could do it a lot easier, but it would be the wrong thing to do. I could say I'm against everything – 'I'm against everything, I'm totally in favor of all of the hate.' – The real hate is not the hate from me. The real hate is the hate from the other side on many of the things that we talk about," Trump said. "Maybe I'm a voice in the wilderness, but most people agree with me. And many won't say it, and they might not even say it in a poll, but I think they'll say it in an election."
Related:
'We Only Kneel to Almighty God': Trump Pledges to Defend America's History and Ideals
Photo courtesy: ©Getty Images
---
Michael Foust has covered the intersection of faith and news for 20 years. His stories have appeared in Baptist Press, Christianity Today, The Christian Post, the Leaf-Chronicle, the Toronto Star and the Knoxville News-Sentinel.