Michael Foust
| ChristianHeadlines.com Contributor
| Friday, August 17, 2018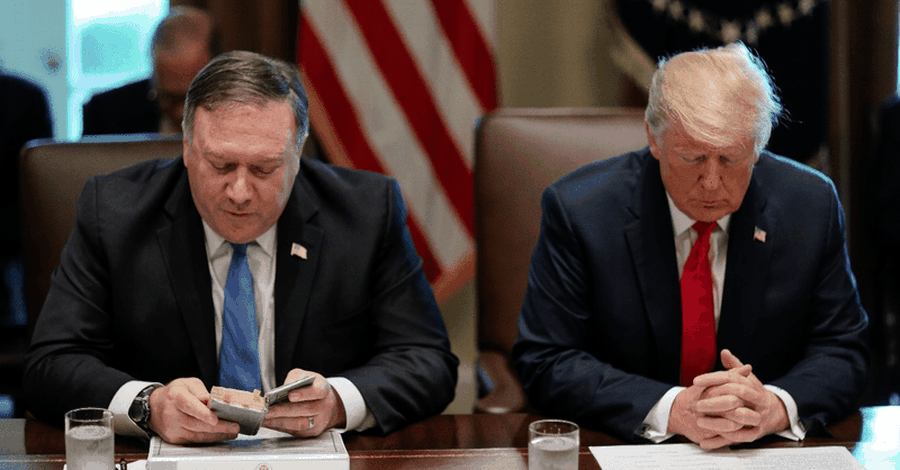 In a move that sparked division on social media, President Trump opened his cabinet meeting Thursday by asking Secretary of State Mike Pompeo to pray.  
Pompeo said he was using a "Cadet Prayer" booklet from his days at West Point. 
"O God, our Father, Thou Searcher of men's hearts, help us to draw near to Thee in sincerity and truth. May our religion be filled with gladness and may our worship of Thee be natural," Pompeo prayed. "Strengthen and increase our admiration for honest dealing and clean thinking, and suffer not our hatred of hypocrisy and pretense ever to diminish. Make us to choose the harder right instead of the easier wrong, and never be to content with a half truth when the whole can be won." 
"Endow us with courage that is born of loyalty to all that is noble and worthy, that scorns to compromise with vice and injustice and knows no fear when truth and right are in jeopardy," Pompeo said. "Help us to maintain the honor of the United States untarnished and unsullied and to show forth in our lives the ideals of America in doing our duty to Thee and to our nation. All of which we ask in the name of the Great Friend and Master of man. Amen."
C-SPAN posted the prayer on Twitter. Some applauded it.
"God bless this country!" one person wrote.
Others, though, said it was out of place.
"Is it a religious meeting? All of them are hypocrites," another person wrote.
President George W. Bush, too, often began his cabinet meetings with prayer, according to U.S. News & World Report.
Michael Foust is a freelance writer. Visit his blog, MichaelFoust.com.
Video courtesy: C-SPAN
Photo courtesy: Getty Images/Oliver Contreras-Pool
---
---