Michael Foust
| ChristianHeadlines.com Contributor
| Friday, April 17, 2020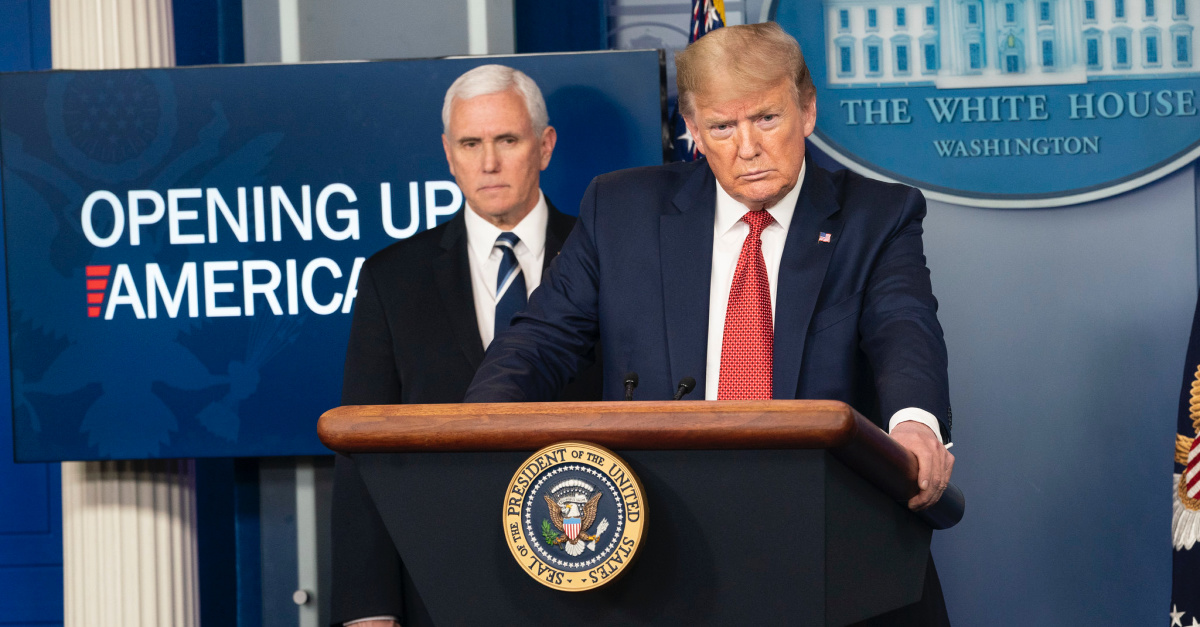 ---
President Trump on Thursday announced a three-phase strategy to reopen America, saying an extended national shutdown is "not a sustainable long-term solution."
The effort will be led by governors, he said.
Continuing the current strategy indefinitely in the battle against the COVID-19 pandemic, he said, would have devastating effects.
"A prolonged lockdown combined with a forced economic depression would inflict an immense and wide-ranging toll on public health," Trump said. "This includes a sharp rise in drug abuse, alcohol abuse, suicide, heart disease and many other dimensions of physical and mental wellbeing. Moreover, many patients have put needed medical care on hold, creating entirely new hazards for public health."
The White House's strategy includes three phases to "restore economic life."
"Healthy Americans will now be able to return to work as conditions on the ground allow," Trump said. "Instead of a blanket shutdown, we will pursue a focus on sheltering the highest-risk individuals."
Each phase will include benchmarks on new case growth, cases and hospital capacity "that must be met before advancing to each phase," he said.
For example, in order to proceed to the three-phase strategy, a state should show a downward trajectory of documented cases within a 14-day period or a "downward trajectory of positive tests as a percent of total tests within a 14-day period," according to the White House website.
Individuals are still urged to wear masks in public and to practice good social hygiene and social distancing.
"This is a gradual process," Trump said. "... Our goal will be to quickly identify and address any outbreaks and put them out rapidly."
Phase 1 says individuals should avoid socializing "in groups of more than 10 people in circumstances that do not readily allow for appropriate physical distancing." Employers should "continue to encourage telework, whenever possible and feasible with business operations." Schools that are closed should remain closed.
Phase 2 says individuals should avoid "social settings of more than 50 people" where "appropriate distancing may not be practical" unless "precautionary measures are observed." Employers should encourage telework whenever possible and should close common areas "where personnel are likely to congregate and interact" – or "enforce moderate social distancing protocols." Schools can reopen in Phase 2.
In Phase 3, "low-risk populations should consider minimizing time spent in crowded environments," while employers can resume "unrestricted staffing."
Experts say "the curve has flattened and the peak in new cases is behind us," Trump said. Meanwhile, nearly 30 percent of counties nationwide have reported no new cases in the last seven days.
"Because of our early and aggressive action, we have avoided the tragedy of healthcare rationing and deadly shortfalls that have befallen many other nations," Trump said. "In America, no person who has needed a ventilator has been denied a ventilator."
Ohio Gov. Mike DeWine – who was one of the first governors to take drastic action against the pandemic – said Thursday his state will begin reopening in phases May 1. Opening up is necessary, he said, to combat homelessness and drug abuse.
"We must get this right. If we do not do this right, the consequences are horrendous," he said.
Photo courtesy: Public Domain/The White House
---
Michael Foust has covered the intersection of faith and news for 20 years. His stories have appeared in Baptist Press, Christianity Today, The Christian Post, the Leaf-Chronicle, the Toronto Star and the Knoxville News-Sentinel.