Michael Foust
| ChristianHeadlines.com Contributor
| Friday, July 19, 2019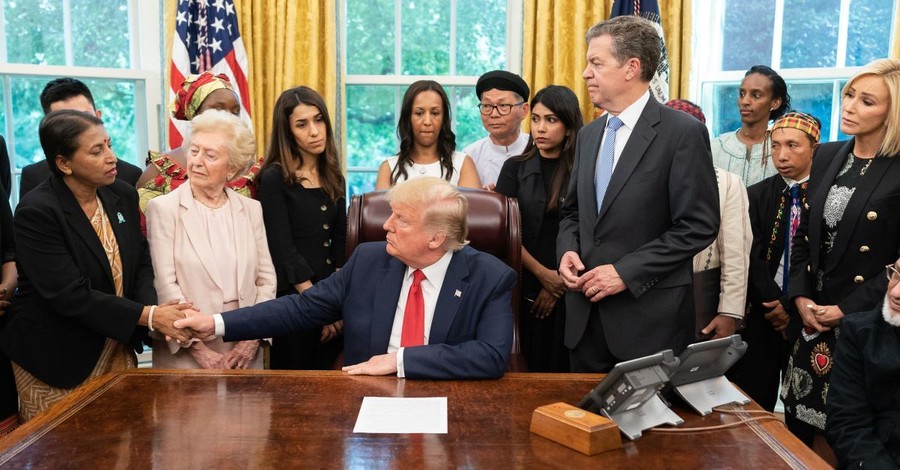 The Trump administration took a three-pronged approach this week to addressing religious liberty violations around the world, and it aimed much of its critique at a global superpower: China.
The U.S. State Department hosted leaders from around the world for its second-annual Ministerial To Advance Religious Freedom, with Secretary of State Michael Pompeo labeling China a leading violator of religious freedom. 
Vice President Mike Pence addressed the assembly and called out China's "religious persecution," while President Trump hosted a meeting in the Oval Office with survivors of religious persecution. Among those was Jewher Ilham, whose father is one of more than 1 million Chinese Muslims held in camps, and Manping Ouyang, a Christian whose husband, a pastor, was arrested. 
"China is home to one of the worst human rights crises of our time," Pompeo said at the department's religious freedom conference. "It is truly the stain of the century."
China quickly pushed back against the White House.
"There is no so-called religious persecution in China at all," Chinese Foreign Ministry spokesman Lu Kang said, according to China Daily. "The Chinese citizens enjoy freedom of religious belief in accordance with law."
But Pompeo and others within the Trump administration listed evidence. 
"In China, the Chinese Communist Party demands control over the lives of the Chinese people and their souls," Pompeo said. "Chinese government officials have even discouraged other countries from attending this very gathering. Is that consistent with the guarantee of 'freedom of religious belief"' that is found directly in the Chinese constitution? If you're here today and you're a country which has defied the Chinese pressure to come here, we salute you and we thank you."
The Chinese government, Pompeo said, "has detained more than one million Chinese Muslims and other minorities in camps in Xinjiang."
Pence mentioned China's persecution of Muslims but also called out China for its violation of the religious liberty of Christians, saying it bans the sale of Bibles and prohibits the construction of churches.
"But in one of the greatest ironies in the history of Christianity, in today's Communist China, we actually see the fastest growth in the Christian faith that we have ever seen anywhere on Earth in the last 2,000 years," Pence said. "Just 70 years ago, when the Communist Party took power, there were fewer than half a million Chinese Christians. Yet today, just two generations later, faith in Jesus Christ has reached as many as 130 million Chinese Christians.
"The truth is, faith is breaking out all across China."
The United States, Pence said, will "always stand in solidarity with the people of all faiths in the People's Republic of China."
"And we will pray for the day that they can live out their faith freely, without fear of persecution," Pence proclaimed.
Related:
China's Schools Teaching Children to 'Hate God' and Distrust Christian Parents, Report Says
'No Longer Safe' to be a Christian in China, says Believer who Fled
China Edits Pastor's Sermon, Deletes 'God Made Heaven and Earth'
China Beats and Arrests Pastor for Not Removing Church's Cross
China Launches Campaign to 'Dismantle' and Eliminate House Churches
Michael Foust is a freelance writer. Visit his blog, MichaelFoust.com.
Photo courtesy: The White House/Public Domain
---
---